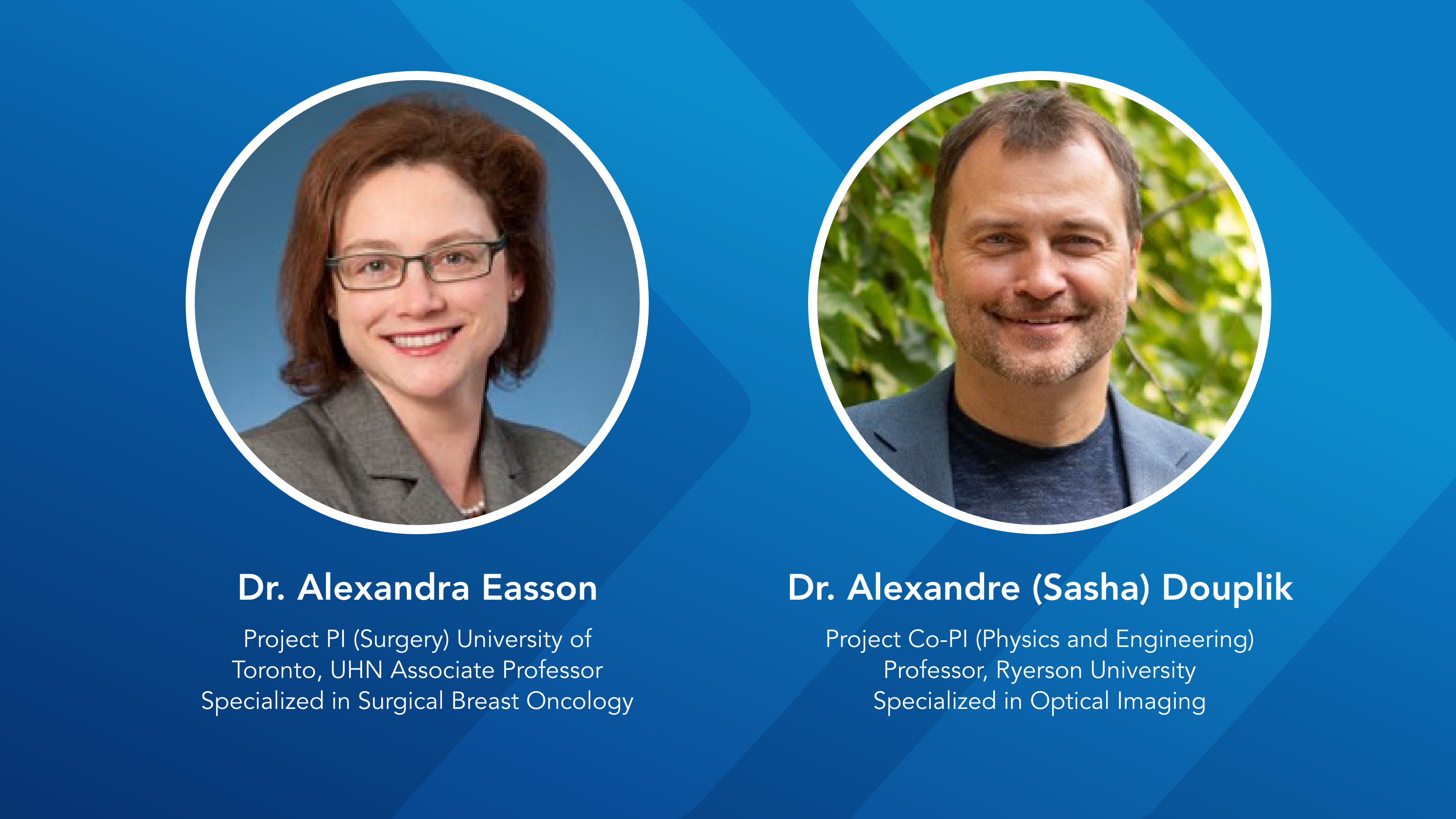 Breast cancer screenings are recommended for all Canadian women because early detection is key to survival. However, the diagnostic process often requires a painful, invasive biopsy that can lead to bruising and swelling––a procedure that some women endure more than once.

Dr. Alexandra Easson, Surgical Oncologist, Princess Margaret Cancer Centre and Ryerson University Professor of Medical Physics, Dr. Alexandre Douplik first began collaborating back in 2005 with one goal in mind: to eliminate the physical pain and emotional suffering from the biopsy process.

Together, these two brilliant minds pioneered the micro endoscopy needle, a 'mosquito bite' approach to biopsies with a much smaller diameter resulting in a highly accurate and less painful approach to diagnosis. Now, in its third generation, this major advancement in technology was made possible through the philanthropic support of The Robin and Barry Picov Research Fund.

The seed funding of $245K provided by the Picovs is what propelled this game-changing development forward. It allowed Dr's. Easson and Douplik to identify technological gaps and barriers through research while working diligently to refine the micro endoscopy needle down to its present size, solidifying an optimal balance between diameter and length. The third-gen microneedle now measures 45mm lengthwise and has an astonishing interior diameter of just 100 microns (equal to 0.1mm) allowing for an extremely accurate but minimally invasive approach to biopsy without any blood loss, scarring or pain for the patient.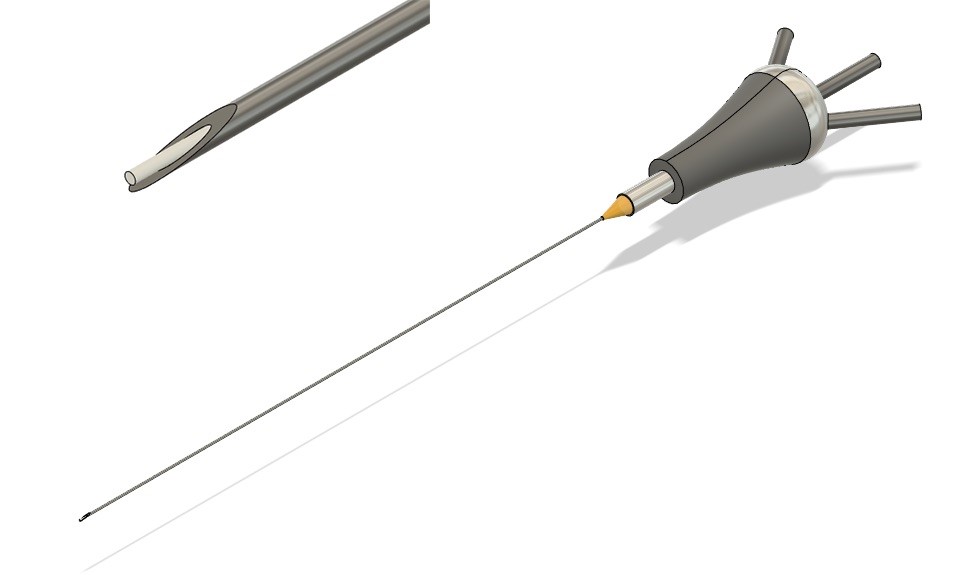 The third-gen microneedle allows for an extremely accurate but minimally invasive approach to biopsy without any blood loss, scarring or pain for the patient

For Robin and Barry, the urge to get behind the third-generation microneedle project was sparked by the contagious passion of Dr. Easson and a deep-rooted family connection. "Our contributions began in memory of my grandmother, Rae Weinert Eisen, who was diagnosed with breast cancer back in the 50's when pain-free procedures didn't exist. This is a generational concern not just for our family but for many families. With this advancement in technology, I hope we can eradicate the fear for our children and make the entire process of diagnosis easier" Robin says.

This will no doubt be the case, as the team has already been granted a provisional patent and are developing many new collaborations around the technology including a new partnership with UHN endocrine surgeon Dr. Jesse Pasternak who will lead the microscope application to standardize thyroid cancer diagnoses. Robin and Barry Picov are excited by the progress, "We have remarkable scientists and a piece of revolutionary technology that are working together to help alleviate the stressors of the waiting game that comes with cancer diagnosis. These are brilliant researchers and physicians who we have a lot of trust in, and we look forward to watching this project progress," they said.

Barry and Robin are confident that this advancement in technology is going to change the way we perform biopsy's forever. By working with the UHN's Commercialization Office, the team recently put a plan in place to accelerate the commercial readiness of the project, which, if successful, will result in a global spread in just a few years. And as brilliant minds continue to join forces around the world the potential of this piece of equipment can only grow and evolve. Once the technology goes through final research, development, and testing stages it is expected that it will allow biopsies to be performed offsite in ambulatory or clinic settings as well. Making screenings more accessible to those who have a difficult time with travel.

The work we do here at Princess Margaret Cancer Centre would prove impossible without the advice and generosity of friends like the Picovs and we remain incredibly grateful for our community of supporters who understand the complexities of what we face in our mission to end cancer for good.

If you'd like to contribute to the momentum of the micro-needle project and become a partner in earlier cancer detection, please contact Tannis Walker today.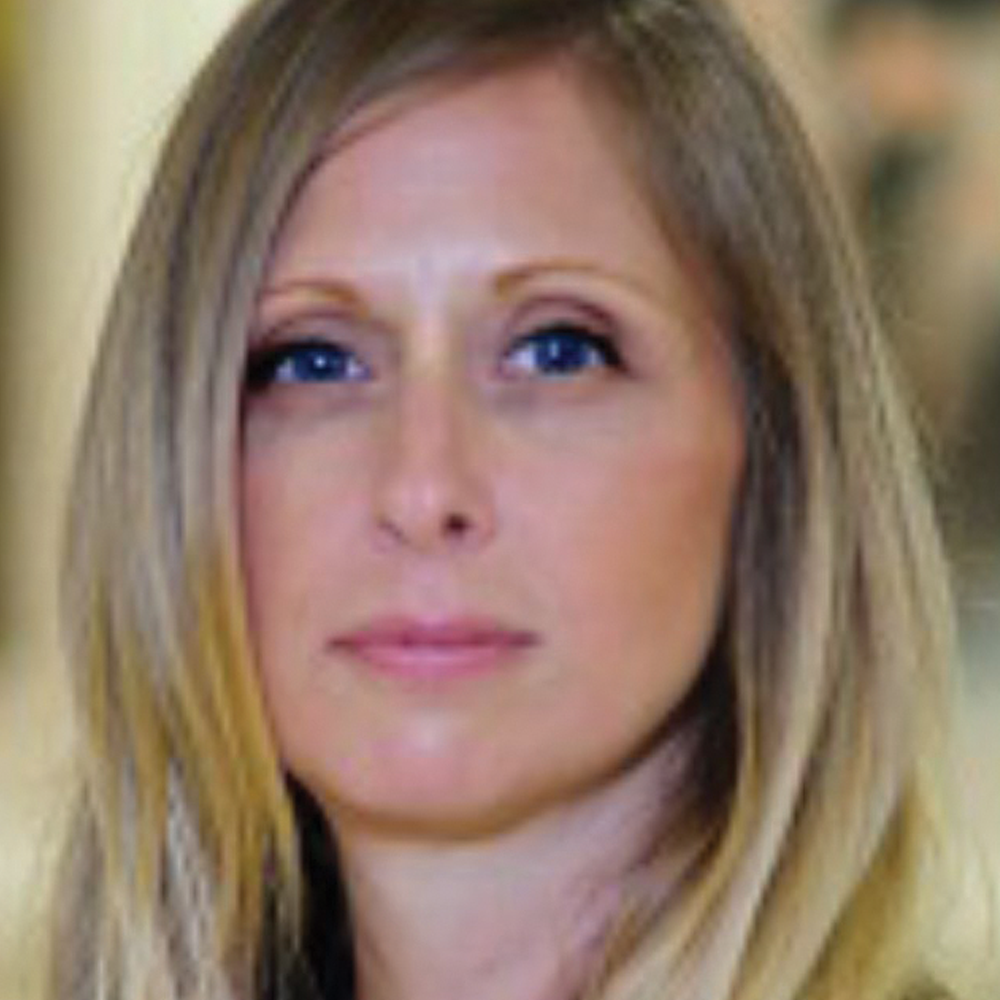 Major and Corporate Giving
Tannis Walker
Director, Major Gifts
Published October 19, 2021