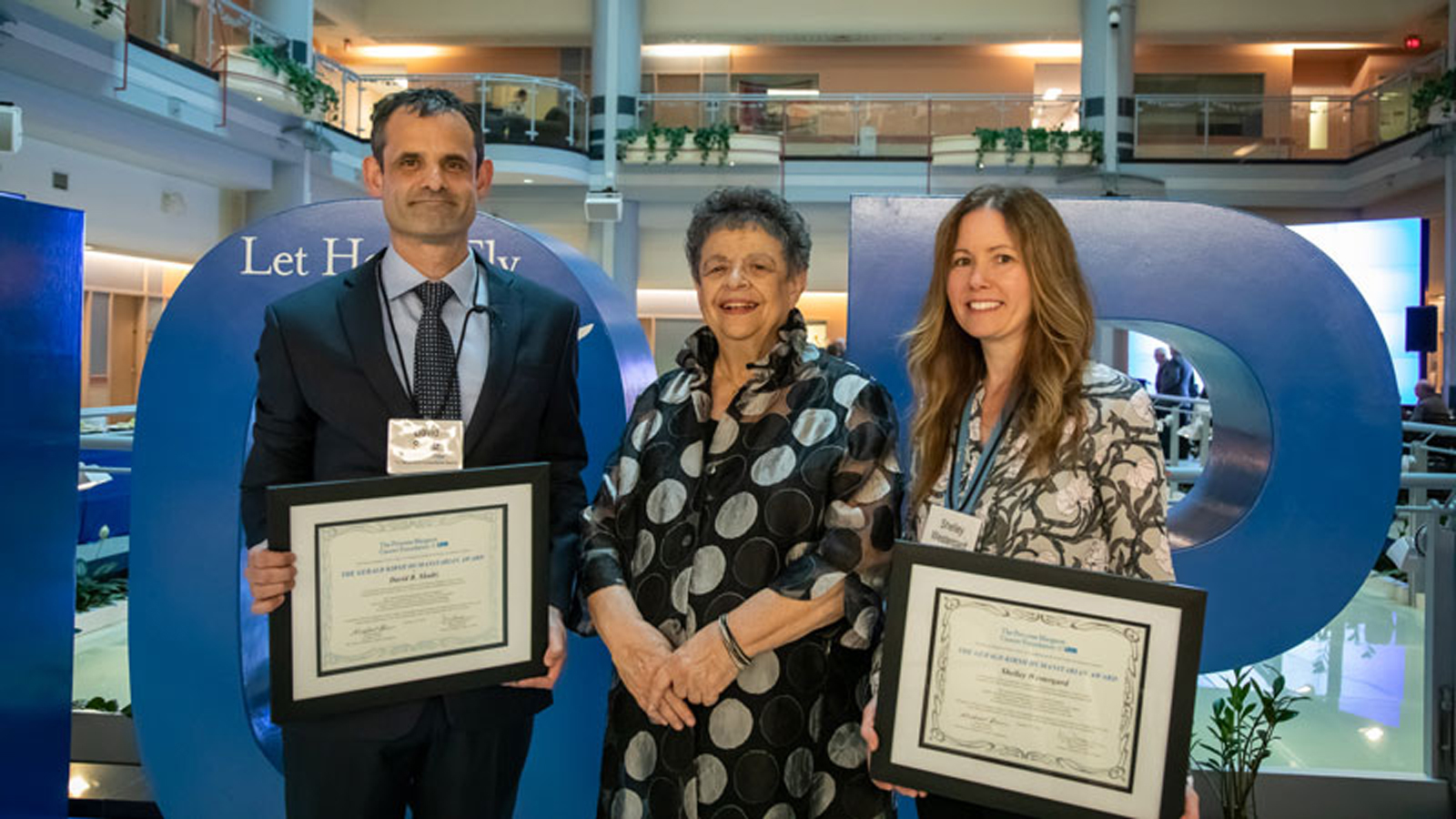 Dr. David B. Shultz and Shelley Westergard were honoured at the 20th annual Gerald Kirsh Humanitarian Awards on Oct. 17 at Princess Margaret Cancer Centre.

The awards were established in 2000 by the family of the late Gerald Kirsh as a tribute to the exceptional care he received while undergoing treatment at The Princess Margaret. The awards are a way for grateful patients and their families to say thanks to members of the staff who have gone above and beyond.

Dr. Shultz is a Central Nervous System (CNS) oncologist specializing in sarcoma at The Princess Margaret. The nomination letter that was received from a patient and his family said Dr. Shultz eased their fears while keeping them grounded in reality, encouraging them to spend time together and laugh.

"He never makes me feel as though I am wasting his time, or that he has somewhere else to be. He is warm, friendly and human," the patient wrote in the letter.

Dr. Shultz was honoured to receive the award.

"It was incredibly wonderful to read those words and appreciate all that the experience had meant to (this family) and how I was able to help them," says Dr. Shultz, who credits his entire care team for their exceptional work.

Westergard is a Registered Nurse at The Princess Margaret who works with breast cancer patients. One of the patients who nominated her called her the nurse navigator every patient wants on their most difficult and terrifying journey.

"She is a voice of calm in the storm, gives comfort and understanding when feeling isolated and alone," the patient wrote in the nomination letter. "Remarkably, at the end of my cancer journey, I was filled with a sense of hope for my future."

Westergard, who has been with The Princess Margaret for eight years, got choked up when hearing the kind words from this patient.

"I am so touched. I can't even tell you. I've overwhelmed with emotion. I'm just so blessed for my patients and so grateful," says Westergard.

"It means so much because I want them to get through what's a very difficult journey with as little difficulty as possible."
Please select a Rich Text page.
Published October 18, 2019
Together, we can Conquer Cancer In Our Lifetime