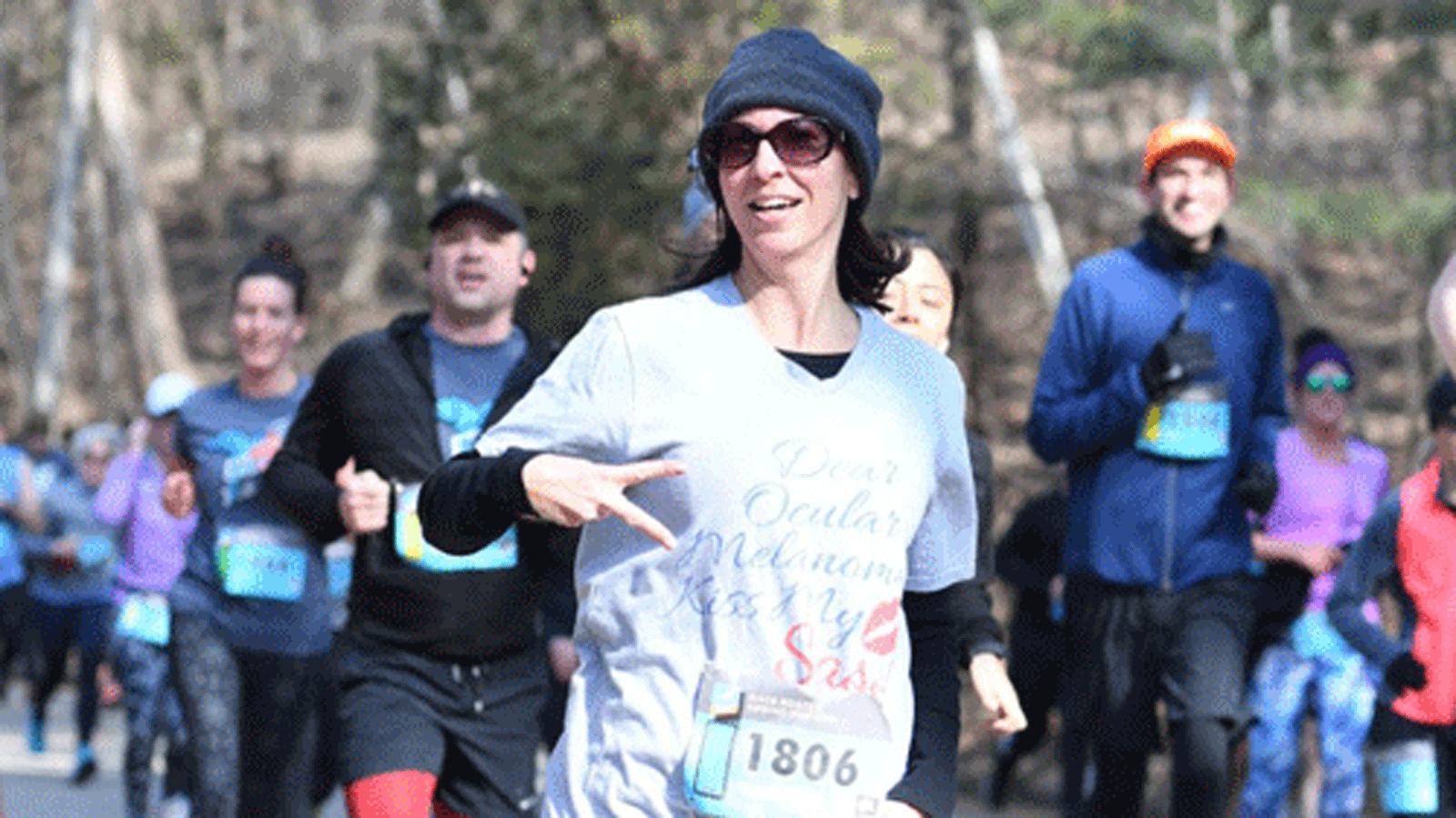 In 2018, Candyce Charles learned about the annual Spring Run-Off 8K, 5K & Kids Run and how she could participate to support cancer research and care at The Princess Margaret. She jumped at the opportunity even though it was her first time running a timed race, let alone her first time fundraising. But for Candyce, it was an opportunity to give back to The Princess Margaret.

Candyce was diagnosed with uveal (ocular) melanoma in June 2017 at the age of 46 and began treatment at The Princess Margaret soon after.

After her individual run in 2018, Candyce created Team EYE See A Cure in 2019. The team was made up of her friends and family to garner more support and as an effort to raise more money. This year, Candyce has been able to expand her team to include friends who were also affected by ocular melanoma.

Candyce met Paige Panetta through an online Facebook support group, and was surprised to meet a fellow member living in Ontario, as most individuals in the group were not Canadians.

Coincidentally, Paige had also been treated at The Princess Margaret. Paige is a survivor of ocular melanoma, who underwent surgeries, testing and initial radiation treatment in 2017. Paige was happy to join Team EYE See A Cure when Candyce told her about it, and was excited to give back to The Princess Margaret.

"I am thankful every day for the level of care I continue to receive from The Princess Margaret," says Paige.

Paige also told her friend Sarah Waltman about her participation in the Under Armour Spring Run-Off, and got her to join their team as well.

Sarah had been treated at The Princess Margaret after she was diagnosed in 2016 with ocular melanoma at 18 years old. She was treated at the ocular oncology clinic at The Princess Margaret with radiation and surgery, and she also participated in two clinical trials. Sarah, who is now 22 years old, jumped at the chance when she learned of the run, and signed up to be part of the Team EYE See A Cure.

"I choose to support The Princess Margaret because battling cancer so young can be scary, but the care you receive can make it so much easier," says Sarah.

Due to the ongoing COVID-19 pandemic, the Under Armour Spring Run-Off has pivoted to a virtual race held between May 4th – July 1st where participants can run their 8K, 5K or kids run from the safety of their own neighbourhoods. Team EYE See A Cure is still fundraising and Candyce, alongside many of her teammates, are all running in the updated Under Armour Spring Run-Off Virtual Race.


Published June 19, 2020
Together, we can Conquer Cancer In Our Lifetime