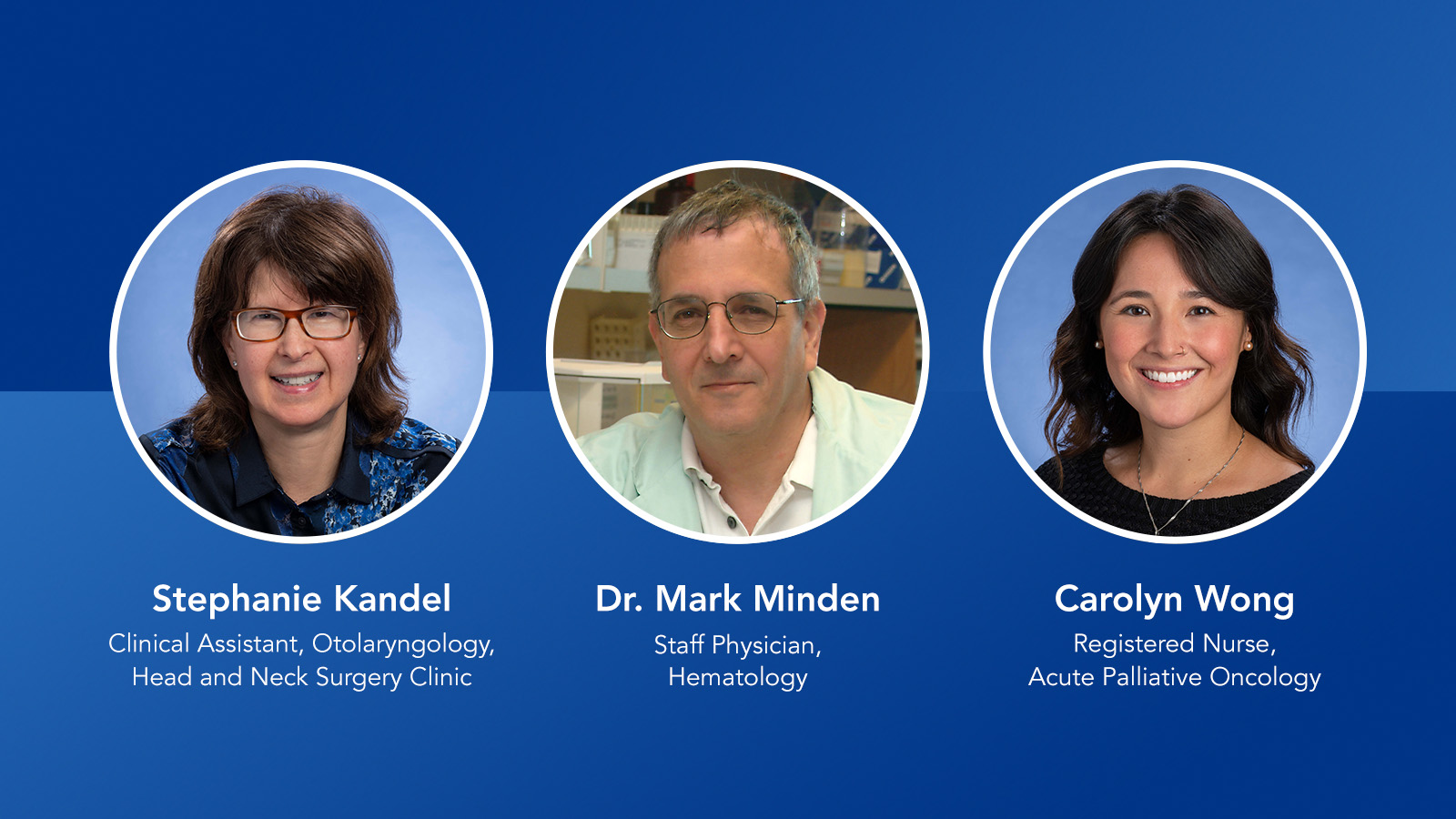 Twenty-two years ago, the Kirsh Family approached The Princess Margaret Cancer Foundation and Princess Margaret Cancer Centre with a desire to establish The Gerald Kirsh Humanitarian Awards as a tribute to the exceptional care that staff and volunteers provided to Gerald Kirsh–a loved father and husband–as he underwent treatment.

The awards recognize healthcare staff and volunteers who go above and beyond the call of duty to provide outstanding care and create a welcoming environment for everyone that walks through the doors at The Princess Margaret. With nominations submitted by patients and their families, the awards act as a special way to say thank you to those who infused comfort and confidence throughout their journey with cancer.

Congratulations to the 2021 recipients:

Stephanie Kandel, Clinical Assistant, Otolaryngology – Head and Neck Surgery Clinic
Dr. Mark Minden, Staff Physician, Hematology
Carolyn Wong, Registered Nurse, Acute Palliative Oncology

Every nomination letter described how the recipients exemplified the values of compassion, teamwork, safety, integrity, and stewardship.

One patient provided a heartfelt account of how Dr. Minden went the extra mile to ensure she was able to attend her daughter's graduation, "On my first day as an inpatient, before I even began my induction therapy, I mentioned to Dr. Minden that my eldest daughter was to graduate from preschool in three weeks' time. He carefully thought about it, asked me to repeat the date, and then said with certainty "we'll get you there". Sure enough, three weeks later, I was released on a day pass to attend this very important event."

In response, Dr. Minden shared, "Over the years, I've learned a lot about humanity and humility of medicine through staff, family and patients. Thank you for this recognition. It truly belongs to the many wonderful, like-minded and supportive people with whom I've had the privilege to work with over many years."

Joining her department over 25 years ago, Stephanie reflected on her time at The Princess Margaret while accepting the award, "This is just so meaningful to me and something that I will cherish forever, and during the global pandemic even more meaningful as the world is in a state that our generation has never seen before."

A patient of the clinic emphasized how she couldn't think of anyone more deserving, "I always feel Stephanie does her utmost to look after my needs. It is a wonderful feeling when one is facing surgery to know that someone does her best to make the experience run as smoothly as possible."

Highlighting how Carolyn's compassionate, resourceful and informative nature gave him confidence that his wife would receive the very best care, one caregiver shared, "She did everything in her power and ability to help my wife be as comfortable as possible. Whenever asked, Carolyn explained, in detail, what my wife was experiencing, what she could expect and why."

In response, Carolyn who recently earned her Canadian Hospice Palliative Care certification said, "As someone who is relatively new in her nursing career, it really inspires me to continue to work hard to bring comfort, security and joy to each person and family member that I meet."

You can watch the 2021 award ceremony here.

Other 2021 nominees include: Jessy Abed (Radiation Therapist), Marisona Almazan (Administrative Assistant, Medical Oncology), Dr. John de Almeida (Surgical Oncologist), Dr. Bernard Cummings (Radiation Oncologist), Julia Dong (Registered Nurse, Clinical Research Coordinator), Isabel Vergara- Hugo (Patient Screener), Joanna Javor (Radiation Therapist), Dr. Dennis Kim (Department of Medical Oncology and Hematology, Staff Physician), Khush Ninawat (Breast Clinic, Patient Flow Coordinator), Melanie Robson (Administration Referral Coordinator), Dr. Lillian Siu (Senior Medical Oncologist), Sabrina Stajer (Administrative Assistant, Medical Oncology), and Dwayne Williams (Unit Clerk Medical Radiation Oncology).

All staff and volunteers at The Princess Margaret are eligible to be nominated for a Gerald Kirsh Humanitarian Award. To learn more or nominate someone, please visit The Kirsh Awards or e-mail kirshawards@thepmcf.ca.


Published November 26, 2021
Together, we can Conquer Cancer In Our Lifetime