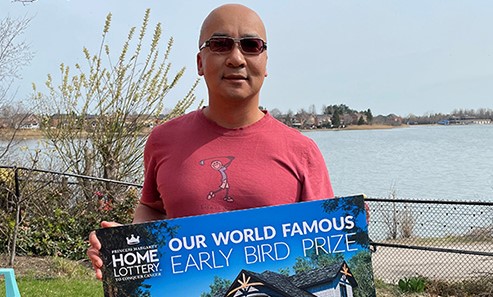 When Eric Nguyen was awoken abruptly at 7:30 a.m. on April 8, 2021 to a call telling him he had won a lakefront cottage, he thought it was a scam, or at best, a prank.

In fact, he was the holder of the winning ticket for The Princess Margaret Cancer Foundation's Early Bird cottage prize, valued at $1.7 million, including a cottage on Buckhorn Lake plus $50,000 cash.

"I had done the math and knew the odds," says Eric. "I couldn't believe it."

The Princess Margaret Cancer Foundation runs three lotteries a year and gives away dream show homes, condos, recreational properties and cottages worth millions, plus thousands of other prizes, all in support of Princess Margaret Cancer Centre.

Eric, 45, won the Princess Margaret Home Lottery's World Famous Early Bird Prize in spring 2021, and now has the vacation home of his dreams to enjoy with his family.

His winning ticket was especially poignant because Eric is a cancer survivor. He was treated at Sunnybrook Health Sciences Centre in 2009 for Hodgkin lymphoma after a year of struggling with unidentifiable symptoms. With a year of radiation and chemotherapy, Eric walked out of the hospital cancer-free and with a resolve to contribute to cancer research and support initiatives to find a cure.

"I received first-class health care treatment from the Canadian health care system," he says. "I want everyone to have the same experience I had."

Eric's experience with cancer changed his perspective on life forever.

"I smile more now," he says. "My family comes first – my children and their activities come first; my parents come first. I am grateful every day and truly believe my life has changed for the better."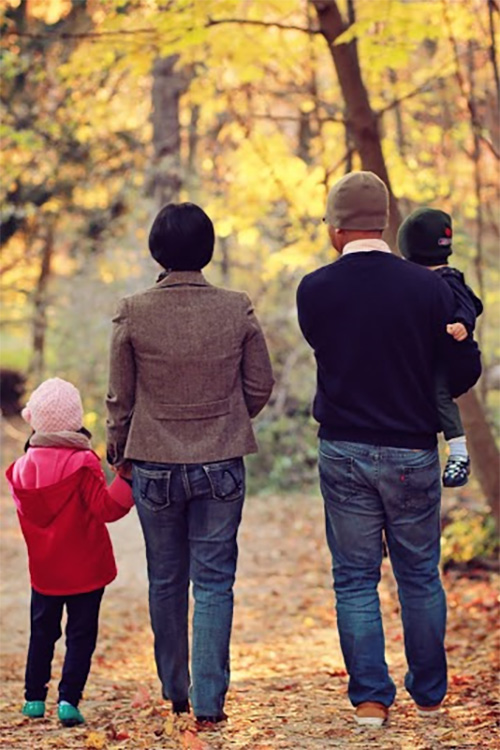 Eric Nguyen with his wife and two children enjoying the colours of fall on Buckhorn Lake.
(Photo: Courtesy Eric Nguyen)

Now cancer-free, the cottage has changed his life; Eric spends his time fishing, jet skiing and watching his two children, aged nine and 11, enjoy the great outdoors. The family spends most weekends at the cottage, located on Buckhorn Lake just two hours from their home in Brampton, and plans to spend the entire summer there.

"My life after cancer treatment has been great," says Eric. "With this cottage, life got better than great."

Eric is able to work from the cottage, providing a serene backdrop for meetings and Zoom calls. His wife enjoys landscaping the sizable yard, and a number of water toys and activities have begun to fill the waterfront view.

Since his treatment, Eric has bought a ticket to the lottery every year. For him, the knowledge that proceeds from the lottery go toward improving cancer care is enough for him.

"I know I'm supporting not just one hospital, but the advancement of science and cancer research as a whole, improving the lives of every cancer patient in Canada and around the world," he says. "When the cause is cancer, I'm happy to contribute because I have been touched by it personally.

"I never expected to win."

The funds raised by the Princess Margaret Lottery are undesignated, which means they can go towards the cancer centre's highest research priorities and support programs such as early detection, targeted therapies and clinical trials.

"I would love to see researchers find a cure for cancer in my lifetime," Eric says.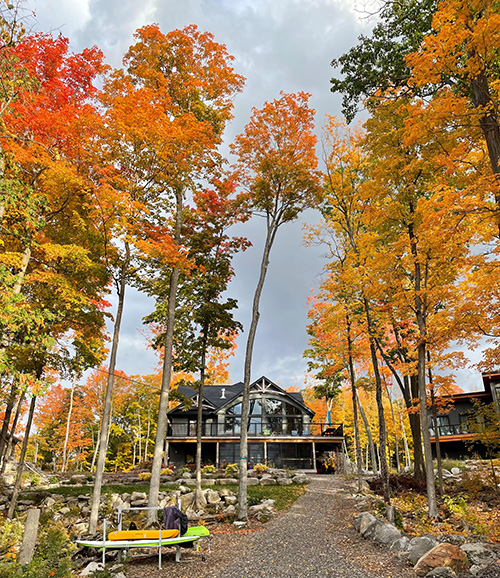 Eric Nguyen's picturesque lakefront cottage provides a perfect weekend escape.
(Photo: Courtesy Eric Nguyen)

As The Princess Margaret Cancer Foundation's largest revenue stream, the lottery has raised more than $575 million for cancer research since the launch of the first program in 1996.

"Without the funds from the lottery, we wouldn't be one of the top five cancer research centres in the world," says Ramona Oss, Vice President, Lottery, The Princess Margaret Cancer Foundation.

The lottery offers many ways to win. In the Summer 2023 Cottage Lottery, there is a chance to win one of three fully furnished and professionally decorated lakefront cottages, a $1 million cash prize, vacations, cars and more than 10,000 other prizes valued at more than $10 million.

One of the grand prizes in the cottage lottery is valued at $2.8 million and includes a cottage and $100,000 cash. With a stunning view of the lake and 2,979 square feet of living space, the Kawartha lakefront cottage is located on Buckhorn Lake, close to Eric's. It is fully furnished, professionally decorated and beautifully landscaped.

"The research we support benefits not only the Princess Margaret, but also cancer centres and patients across the province, country and even the world," says Ramona.

With a history of selling out early, this year's Princess Margaret Cottage Lottery is not one to miss. Purchase your tickets prior to the Early Bird deadline on July 14 to be eligible to win the $1 million cash prize, one of three lakefront cottages and so much more. To purchase your ticket, visit www.princessmargaretlotto.com.

This story first appeared on UHN News