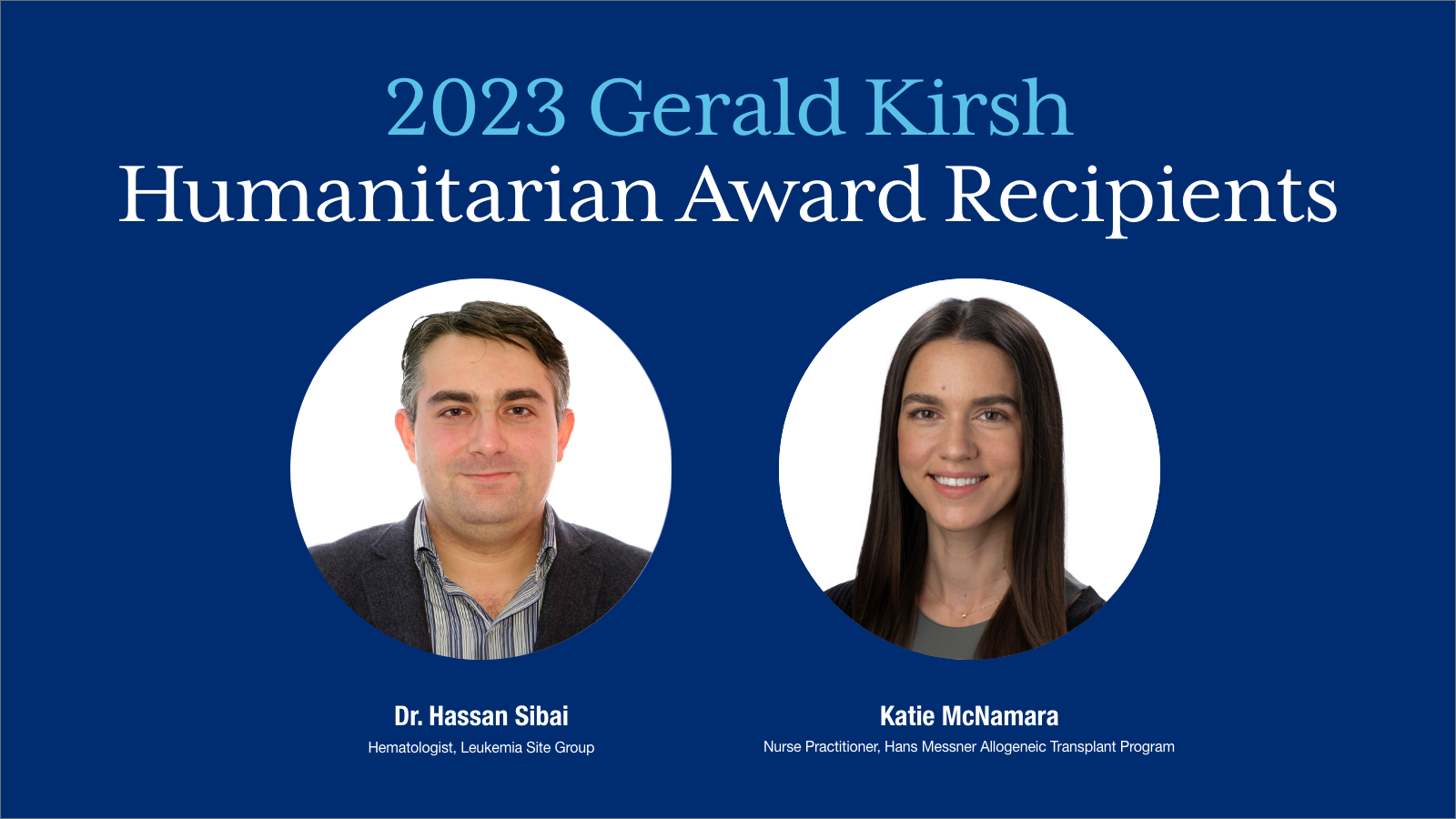 The Princess Margaret Cancer Foundation is thrilled to announce Katie McNamara, Nurse Practitioner with the Hans Messner Allogeneic Transplant Program, and Dr. Hassan Sibai, Hematologist with the Leukemia Site Group and the Elizabeth and Tony Comper MPN Program, as recipients of the 2023 Gerald Kirsh Humanitarian Award.

Over twenty years ago, the Kirsh family, in partnership with The PMCF, established the awards program as a tribute to the exceptional care Gerald Kirsh received at Princess Margaret Cancer Centre. The program provides patients and their families with the opportunity to express gratitude to employees or volunteers who played, or continue to play, an integral role in their cancer journey.

Both Katie and Dr. Sibai demonstrate exemplary care guided by the program's humanitarian principles and five core values: compassion, integrity, safety, stewardship, and teamwork.

Katie joined The Princess Margaret ten years ago as a new graduate nurse in the Nursing Resource Team after receiving her Bachelor of Science in Nursing from the University of Toronto, where she later attained her Master of Nursing – Nurse Practitioner in Primary Health Care. Katie shared, "Witnessing the strength and resilience of patients undergoing treatment fueled my desire to pursue the advanced practice role to improve the quality, safety and experience of cancer care."

She collaborated with a multidisciplinary team to help launch the Cancer Centre's Allo@Home Program; the innovative care model enables eligible patients to receive a portion of their transplant care in their home or a home-like setting near the Cancer Centre.

As a Nurse Practitioner with a focus on allogeneic stem cell transplant, she oversees the care of patients throughout their transplant journey across inpatient, outpatient and home care settings. She assesses patients for treatment-related side effects, monitors for post-transplant complications, manages complex treatment regimens, and provides vital education and emotional support to both patients and their families.

Katie finds the most fulfilling part of her role is the profound connections formed with patients and their families. "Despite the inherent challenges of working in cancer care, my days are often sprinkled with shared smiles, laughter, and light-hearted moments, even as patients and their families navigate some of the most difficult periods of their lives. These human connections allow us to share moments of hope, strength, and resilience in the face of adversity."

A patient receiving treatment for acute myeloid leukemia emphasized Katie's endless capacity to provide exceptional care. Katie's warmth, rock-solid knowledge and extensive experience makes them feel comfortable to turn to her for physical and emotional support.

The award means a great deal to Katie as it celebrates the core values that she aims to embody in her practice. "I am fortunate to be surrounded by colleagues, patients, and families who constantly inspire and motivate me to deliver quality, compassionate patient care."

Dr. Sibai also joined The Princess Margaret nearly ten years ago. Originally from Syria, he decided to pursue a career in health care after witnessing his father, an obstetrician, provide compassionate and ethical care. When Dr. Sibai was ten years old, he also watched his aunt struggle with cancer.

He completed postgraduate training in Hematology and Oncology at the American University of Beirut, followed by a fellowship in Leukemia and Allogeneic BMT at the University of Toronto and The Princess Margaret.

Dr. Sibai is also the primary investigator or co-investigator for hematologic malignancy clinical trials. His research interests include thrombosis with leukemia, mental wellness for myeloproliferative neoplasms and hereditary leukemia syndromes with the commitment to improve teaching methods for residents.

"Every day at the clinic is different. You learn something new from your patients or your colleagues," says Dr. Sibai, while emphasizing the entire care team is committed to providing the best quality of life for patients as well as mentorship opportunities for medical students and residents.

With patients visiting the clinic once or twice a week, Dr. Sibai has built strong relationships with patients and their families. "Our team receives cards and visits from past patients. It makes you feel like you have really made an impact."

One of Dr. Sibai's patients gifted him with a wooden sign featuring a quote from the famous movie Patch Adams that reads: "You treat a disease, you win, you lose. You treat a person, I guarantee you, you'll win, no matter what the outcome." She believes Dr. Sibai provides holistic care as he not only focuses on physical health but also mental health and wellness.

A caregiver, whose daughter is facing acute leukemia, expressed Dr. Sibai is truly devoted to his service. "From what I have noticed, even by interactions with other patients, Dr. Sibai has gone above and beyond. I truly believe he is a blessing to have as a doctor and teammate. I am beyond grateful my daughter feels safe and connected to him because I know that doesn't come easy, and I too trust her life in his care."

Another patient highlighted how Dr. Sibai's unwavering commitment to live by these principles not only significantly impacted their life but also set a remarkable example for others.

Dr. Sibai feels honoured to receive the Gerald Kirsh Humanitarian Award. "Thank you to the Kirsh family and those who nominated me. I would also like to acknowledge the entire care teams – from the nurses, physicians, administration, and everyone else in between – because your efforts create an easier journey for patients."

Other 2023 nominees who exhibited exemplary care include Dr. John Cho, Dr. Marta Beata Davidson, Kaimraj Dookie, Dr. Alexandra Easson, Fe Lopez, Robin Forbes, Sharmila Haniff, Dr. Lucy Ma, Dr. Michelle Nadler, Dr. Samuel Saibil, Harjot Singh Vohra and Dr. Anna Spreafico.

Missed the live event? You can watch the awards ceremony here.

To learn more about the awards, or to nominate a Princess Margaret team member or volunteer for the 2024 Gerald Kirsh Humanitarian Awards, please visit The Kirsh Awards or email kirshawards@thepmcf.ca.