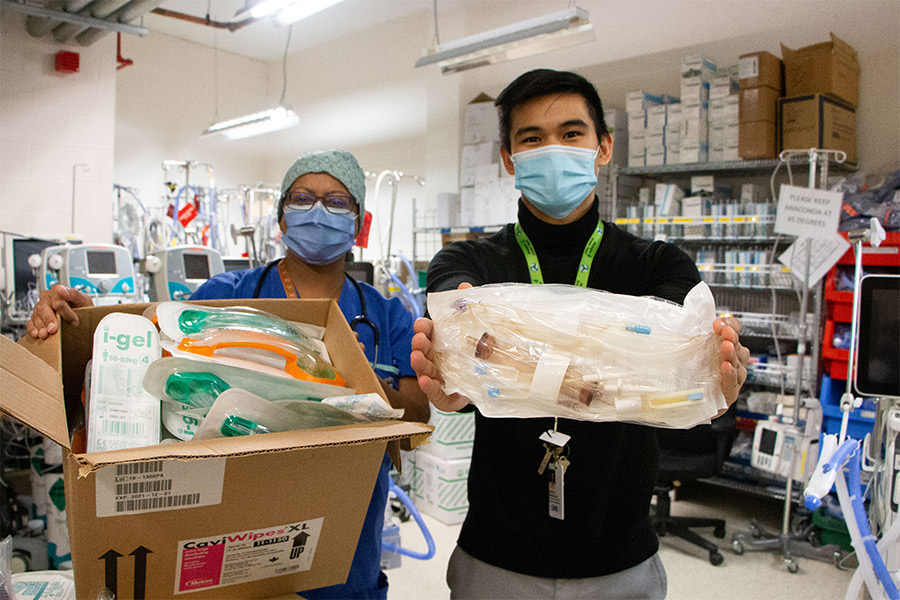 UHN's frontline workers are stepping up once again to support a country in crisis by donating dozens of boxes of medical supplies – this time to an embattled Ukraine.
As Russia continues its devastating attack, an estimated two million Ukrainians have fled the country, hundreds of civilians have been killed and even more have been injured – most by explosive weapons and heavy artillery, according to the United Nations.
UHN Energy & Environment team's Operation Green – an organization-wide program that collects surplus, unused, or expired medical supplies to donate to countries in need – alongside UHN staff, is springing to action by collecting donations for the Eastern European country.
All boxes of donated supplies will be collected from across UHN on March 21.
Although Operation Green was on brief hiatus due to the pandemic's Omicron Wave, it's back up and running just in time, says Warren Marasigan, Sustainability Coordinator with Energy & Environment, part of Facilities Management – Planning, Redevelopment & Operations (FM-PRO).
"We've already received tons of support and push from UHN departments to see if Operation Green will be going to Ukraine," says Warren, who oversees the program. "It's really touching to see how the UHN community is pulling together to help those in need."
From bandages and soft gauze to defibrillators and trauma scissors, no donation is too small, he says.
"While surplus medical supplies can seem like a hassle to us here, to people across the globe – who may use the same equipment to the point of breaking – it means all the difference to them," says Warren.
"Operation Green isn't just about diverting items from the landfill – surplus medical supplies do save lives."

Arlene Ojero, a registered nurse in Rheumatology, is a longtime donor to Operation Green.
"I came from the Philippines, so I know what it's like to have less healthcare available for the public – especially for those who are in dire need of it," she says. "I really don't want our unused items to go into waste – especially when it can help other countries that are less fortunate to have medical supplies."
Warren is already working with partner organization Not Just Tourists, which arranges the shipment of medical supplies to foreign countries through individual travellers, or in this case, through another partner organization, the Canada Ukraine Foundation. They've already shipped 46 boxes of medical supplies via air freight to Ukraine from previous UHN donations.
Much more is still needed, says Juliet Lev, Not Just Tourists Medical Advisor managing the Ukraine supply collection.
"A number of non-profit organizations, including the Canada-Ukraine Foundation, are continuously sending supplies to Ukraine because there is a desperate need there," says Juliet. "The hospitals are running out of IVs, wound care – just basics.
"They need help treating war-related injuries, like trauma, head injuries, orthopedics, and neurosurgery."
Juliet is grateful for UHN's support, which is a leading hospital when it comes to donating, she says.
"UHN has been amazing," says Juliet. "Without your supplies it would really have run quite dry."
Individuals or Departments across UHN who want to help with the upcoming Ukraine donation, simply need to contact operationgreen@uhn.ca, grab a box from central storage, label it Operation Green and start collecting surplus, unused, expired, or short-dated (near expiry) supplies.
On March 21, Warren, with the help of Green Team volunteers, will visit each donor to collect the items, FM-PRO's Transportation Services will ship it to Not Just Tourists, who will then arrange for it to be shipped directly into the warzone.
"A lot of us have … a sense of helplessness only watching what's going on in Ukraine and we can't really do anything," says Warren. "This program allows us at UHN to feel fulfilled, to know we're able to help with this whole situation."
Items needed for donation include:
Gel-based occlusive thoracic bandage, e.g., Hydroseal (with or without valve)
SAM splints
Sterile wipes
Bandages (Israeli type)
Chemical haemostatic agents, e.g., Fibrillar, Gelfoam, Quickclot, Xstat
Tape, occlusive and woven
Elastic bandages (Tensors)
Burn dressings, Hydrogel (various sizes)
Non-sterile bandages and gauze dressings (various sizes)
Sterile bandages and gauze dressings (various sizes)
Soft gauze
Individual sterile dressing packages with elastic first aid compression component with protective moisture resistant shell
Defibrillator and pads
Catheterization set
Catheters and bags
Stretcher
SWAT tourniquets
IV blood transfusion sets
Crystalloids
First aid kits
IFAK: individual first aid kits
Gastric lavage kits
Tactical responder bags
Waterproof markers
PPE (gloves, masks, eye protection)
Laryngeal masks with combitubes (4,5,6)
Nasopharyngeal airways
Tracheostomy tubes
Trauma scissors
This story first appeared on UHN News.
Together, we can Conquer Cancer In Our Lifetime