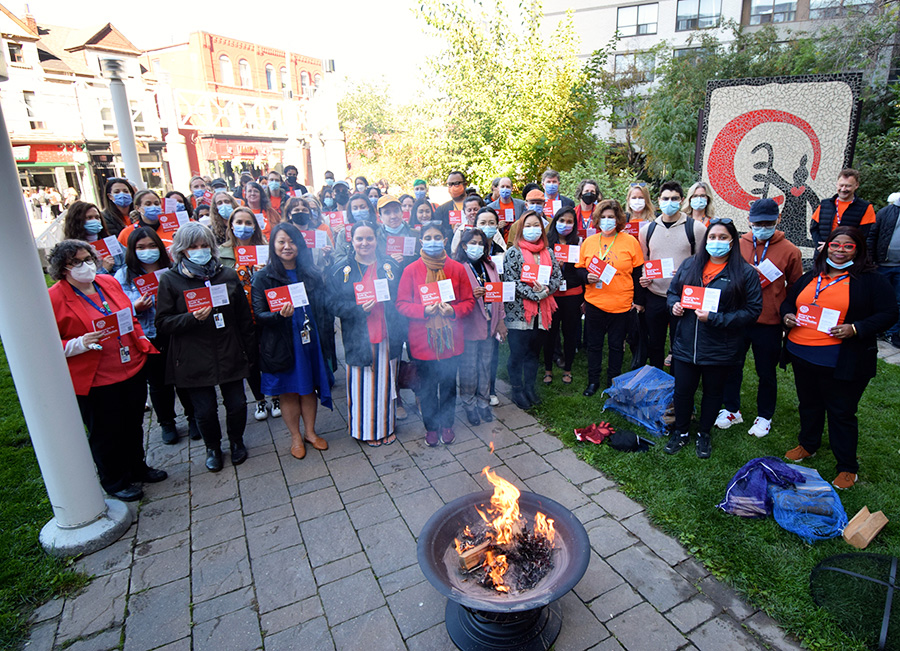 It was a time for reflection.

With drumming and song, a sacred fire and commitments – both organizational and personal – UHN marked the second National Day for Truth and Reconciliation on Friday.

Every Sept. 30, UHN commemorates Orange Shirt Day, which is dedicated to creating opportunities for meaningful discussion about all aspects of residential schools and their lasting effects. Last year, the Canadian government established the date as the annual National Day for Truth and Reconciliation.

The discovery of thousands of unmarked graves at former residential schools across the country made that inaugural commemoration even more poignant, and the grief and lasting trauma clearer to all.

"Days like today show that we're not gone, we're still here," Dr. Mike Anderson, Strategic Lead of the Indigenous Health Program (IHP) at UHN, told those attending the event, which was held at the Michener Gitigan (the Anishinaabemowin word for garden) at the Michener Institute of Education at UHN.

"We always recognize that truth comes first but the second part of it is reconciliation and that's an action, and that's the work we have to do.

"The Truth and Reconciliation Commission laid out 94 Calls to Action, they gave us a roadmap on the work institutions, organizations and individuals can do to improve our relationship, develop a better understanding."

The event was co-hosted by the IHP and the Toronto Central Regional Indigenous Cancer Program.

Darlene Dasent, Vice President & Chief Financial Officer, reaffirmed UHN's commitment to enacting and being accountable to the Truth and Reconciliation Commission's Calls to Action related to healthcare, specifically Calls to Action No. 18 through 24.

"UHN has made a commitment to move from statements to action," Darlene said. "We must provide accountability to the Indigenous community, and our values must lead our organizational priorities.

"Some of our recent success include this very space," she said in reference to the Michener Gitigan. "We are honoured to experience the sacred fire, and stand within reach of the traditional medicines planted in this garden.

"Here we can imagine healing and community building."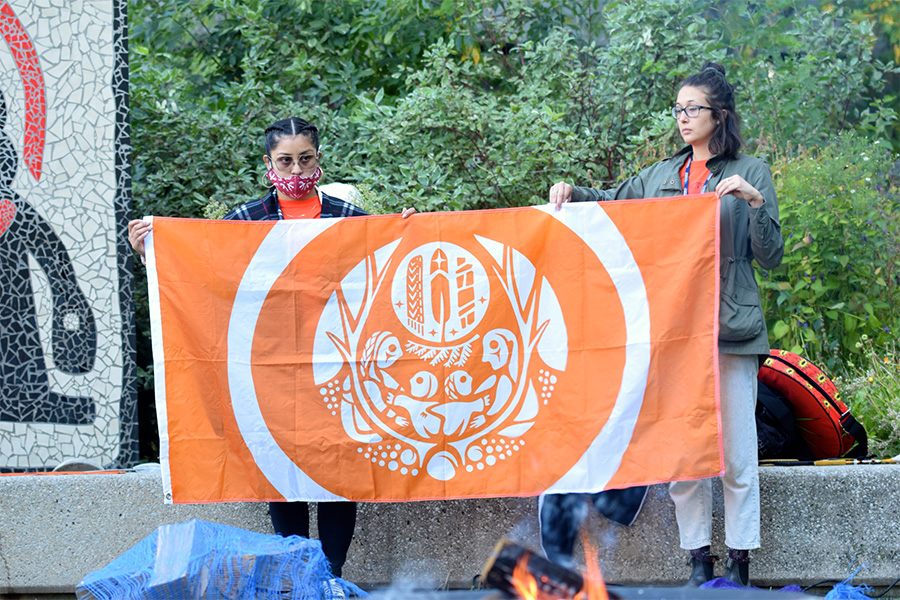 Last year, on the inaugural National Day for Truth and Reconciliation, UHN committed to Call to Action No. 22. It states: "We call upon those who can effect change within the Canadian healthcare system to recognize the value of Aboriginal healing practices and use them in the treatment of Aboriginal patients in collaboration with Aboriginal Healers and Elders where requested by Aboriginal patients."

Since then, under the leadership of the IHP, progress has happened in a number of areas, including:
Drafting a UHN policy on Indigenous ceremonial practices, which is nearing completion
Increasing requests for the Indigenous Patient Navigator, cultural supports, and the use of Indigenous ceremonies and healing practices at UHN
Hosting the first summer solstice sunrise ceremony and sacred fire at the Michener Gitigan to mark National Indigenous History Month in June
Using the plants grown in the Michener Gitigan for traditional medicine and healing practices that support patients and program initiatives
Read more on the National Day for Truth and Reconciliation and UHN's initiatives on Calls to Action.

In addition to continuing to move forward on Call to Action No. 22, UHN this year committed to Call to Action No. 23. It states: "We call upon all levels of government to: i. Increase the number of Aboriginal professionals working in the healthcare field. ii. Ensure the retention of Aboriginal healthcare providers in Aboriginal communities. iii. Provide cultural competency training for all healthcare professionals."

On this, the IHP is already:
Expanding Indigenous Health roles at UHN, including Emergency Navigators at the Toronto General and Toronto Western hospitals, and Elders and Knowledge Keepers with the organization to provide broad support
Developing an undergraduate mentorship program over the long-term
Creating two post-doctoral fellowships in partnership with Waakebiness Institute for Indigenous Health, UHN Research, and Peter Munk Cardiac Centre, dedicated to data governance and digital health, respectively
Welcoming practicum placements from the Masters of Public Health – Indigenous Health stream
Advancing training partnerships between Indigenous communities and UHN, including at the Michener Institute
Developing cultural safety programs with both targeted and UHN-wide approaches.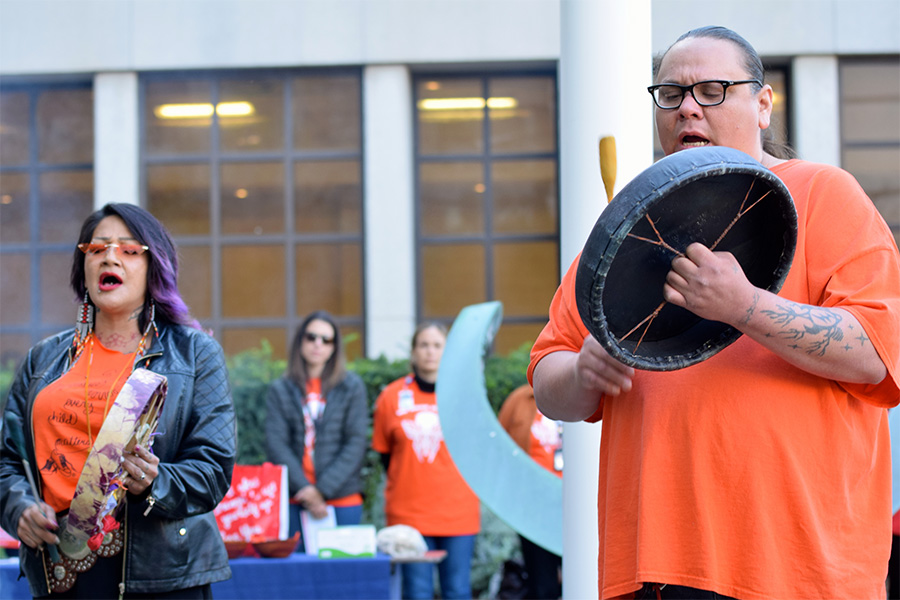 At the event in the Michener Gitigan, the "Survivors' Flag was flown. It affirms commitment to the remembrance of the lives lost through, and impacted by, the residential school system in Canada.

The Survivors' Flag was developed through consultation and collaboration with Inuit, Mi'kmaq, Atikamekw, Cree, Ojibway, Dakota, Mohawk, Dene, Nuu-chah-nulth, Secwepemc and Métis survivors.

Each of the nine elements depicted on the flag – The Family, The Children, The Seeds Below Ground, Tree of Peace, Cedar Branch, Cosmic Symbolism, The Métis Sash, The Eagle Feather and The Inuksuit – was carefully selected by survivors from across Canada, who were consulted in its creation.

"Survivors experienced horrific atrocities while prisoners in these institutions," Dorene Bernard, a Mi'kmaq survivor who attended Shubenacadie Residential School in Nova Scotia and contributed to the flag concept and design, says on the website of the National Centre for Truth and Reconciliation.

"It is important that this image show the love and strength that colonialism tried to steal from us. Despite genocide, we are still here – still fighting for justice and restitution, as true Warriors."

In addition to the organizational commitment undertaken by UHN, at the end of Friday's event, attendees were handed individual "commitment cards," which are intended to offer opportunities to make personal commitments to reconciliation over the next year.

The half-page card says, "We all have a role and responsibility in Reconciliation" and then asks, "How will you honour Reconciliation this year?" before listing off a number of examples of commitments.

The 12 commitments listed include, "taking a course about the history of residential schools or other aspects of Indigenous history," or "integrating at least one Truth & Reconciliation Call to Action into professional and/or personal life" and "calling out anti-Indigenous racism or bias I witness." There's also room for people to write in their own commitment to undertake.

The hope is that members of TeamUHN will take the cards, check off their personal commitments and keep them in a prominent place at work or home to reflect on them. The goal is for people to bring back their cards to next year's event and discuss their progress.

​This story first appeared on UHN News