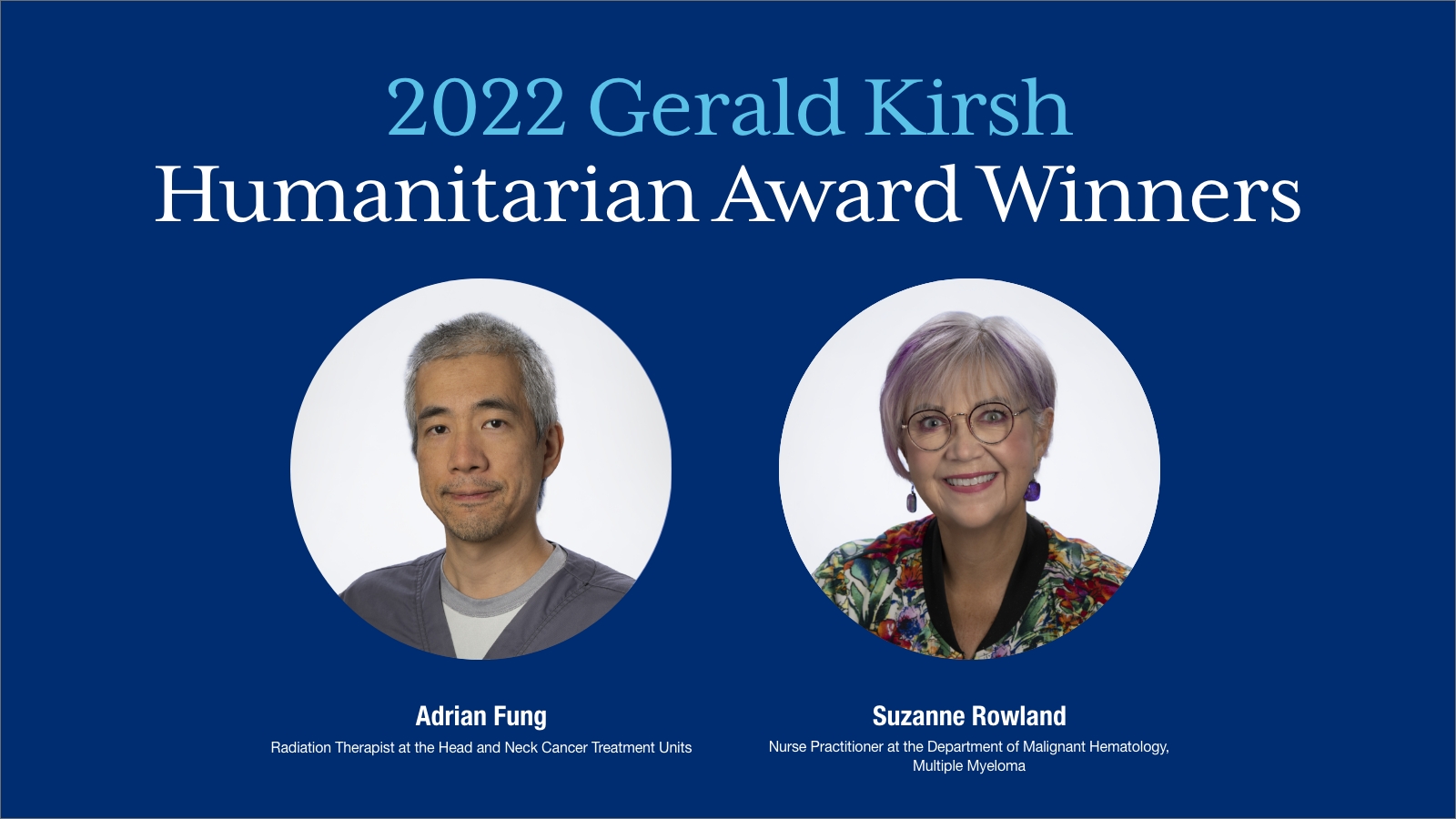 The Princess Margaret Cancer Foundation is thrilled to recognize Suzanne Rowland, Nurse Practitioner at the Department of Malignant Hematology, and Adrian Fung, Radiation Therapist at the Head and Neck Cancer Treatment Units, as recipients of the 2022 Gerald Kirsh Humanitarian Awards.

The Kirsh family collaborated with The Foundation and Princess Margaret Cancer Centre 22 years ago to launch the awards as a tribute to the exceptional care their cherished husband and father, Gerald Kirsh, received at The Princess Margaret.

Today, grateful patients and their families continue to express their gratitude to The Princess Margaret staff and volunteers who have gone above and beyond the call of duty to provide outstanding care.

Suzanne and Adrian are two exemplary team members who demonstrate compassion, teamwork, integrity, stewardship, and safety.

"Receiving the award as I near the end of my career is a huge highlight," said Suzanne, wiping tears from her eyes.

"The fact that it centres on the commitment to providing humanitarian care is particularly special to me."

Suzanne's mother always told her that she was destined to become a nurse and 43 years ago, Suzanne did in fact go on to pursue a career in nursing. Throughout her career, Suzanne aspired to join the team at The Princess Margaret. When a maternity leave position became available, Suzanne took a chance and jumped on the opportunity to apply. She joined the team at The Princess Margaret as a nurse practitioner with the myeloma program – the first role of its kind with the program. Driven by her passion to provide supportive palliative and end-of-life care, Suzanne evolved the role over the last nine years to further meet patients' needs.

Suzanne's compassionate care and work ethic are driven by her commitment to treat not only the disease but the whole person. She also believes strongly in health care equity. "The patients that I see have advanced cancer or cancer plus other illnesses. These individuals may also be facing homelessness, drug addiction, or unemployment."

She believes it's important to spend as much time as possible with patients to support them in all aspects of life. "We need to ensure every patient is considered for who they are, where they come from, their medical literacy, education level, and personal support system."

One of Suzanne's patients said: "Suzanne, despite her denial, has had the biggest mark on my life and journey through cancer of anyone. She didn't just preach the ideology of care at The Princess Margaret but lived it in her day-to-day actions, being with me through every appointment, every chemo, and radiation therapy appointment."

Adrian also expresses his gratitude to the Kirsh family for the award, "I was surprised when I read the email because I know for The Princess Margaret community it's one of the highest honours to receive the Gerald Kirsh Humanitarian Award. It's very humbling."

Adrian kick-started his career as a radiation therapist at The Princess Margaret directly out of university nearly 20 years ago. An ad promoting a new radiation therapy program offered in collaboration between the University of Toronto and the Michener Institute of Education at UHN piqued his interest when he was still a student. "It was a turning point for my career," says Adrian. Volunteering at The Princess Margaret's Magic Castle also affirmed his interest in the radiation therapy program.

Adrian believes receiving the award is a recognition not only of himself but the entire team at the Head and Neck Clinical Program. "It's a testament to our teamwork and collaborative approach to offering integrated care with the end goal of helping our patients."

Knowing cancer patients are inherently in a vulnerable position fuels Adrian's commitment to ensure they receive the best care possible. "It can be an extreme shock for the patient, as well as to their family and friends, to receive a cancer diagnosis. It's important for us to express compassion and empathy. If there's anything that we can do to provide a supportive space – whether it's providing resources, coordinating volunteer drivers, offering a listening ear or directing them to a comforting space at the Cancer Centre to rest."

Adrian's supervisor Veng Chhin, who has known him for more than 10 years, says he exhibits the values at the heart of The Princess Margaret, including compassion and teamwork. "His unwavering dedication to all his patients and team is unsurpassed. Every day, no matter what the circumstance is, Adrian always provides the best care possible. He is also a valuable resource for other staff, both junior and senior, who do not hesitate to approach him for his advice and expertise."

The winners' names will appear on a special recognition wall for Gerald Kirsh Humanitarian Award recipients on the Cancer Centre's main floor.

You can watch the 2022 award ceremony here.

Fellow nominees for the 2022 awards include Kelly Antes, Andrea Bezjak, Marcus Butler, Neil Fleshner, Sonia Gourlay, Breffni Hannon, Ellen Hoffman, Liat Hogen, Stephanie Kandel, Monica Ku, Bernadeth Lao, Karen Lee, Geoff Liu, Monica Monchis, Michael Reedijk, Samuel Saibil, Vanessa Speers, Santhosh Thyagu, and Devon Wood.

To learn more about the awards, or to nominate a Princess Margaret team member or volunteer for the 2023 Gerald Kirsh Humanitarian Awards, please visit The Kirsh Awards or e-mail kirshawards@thepmcf.ca.