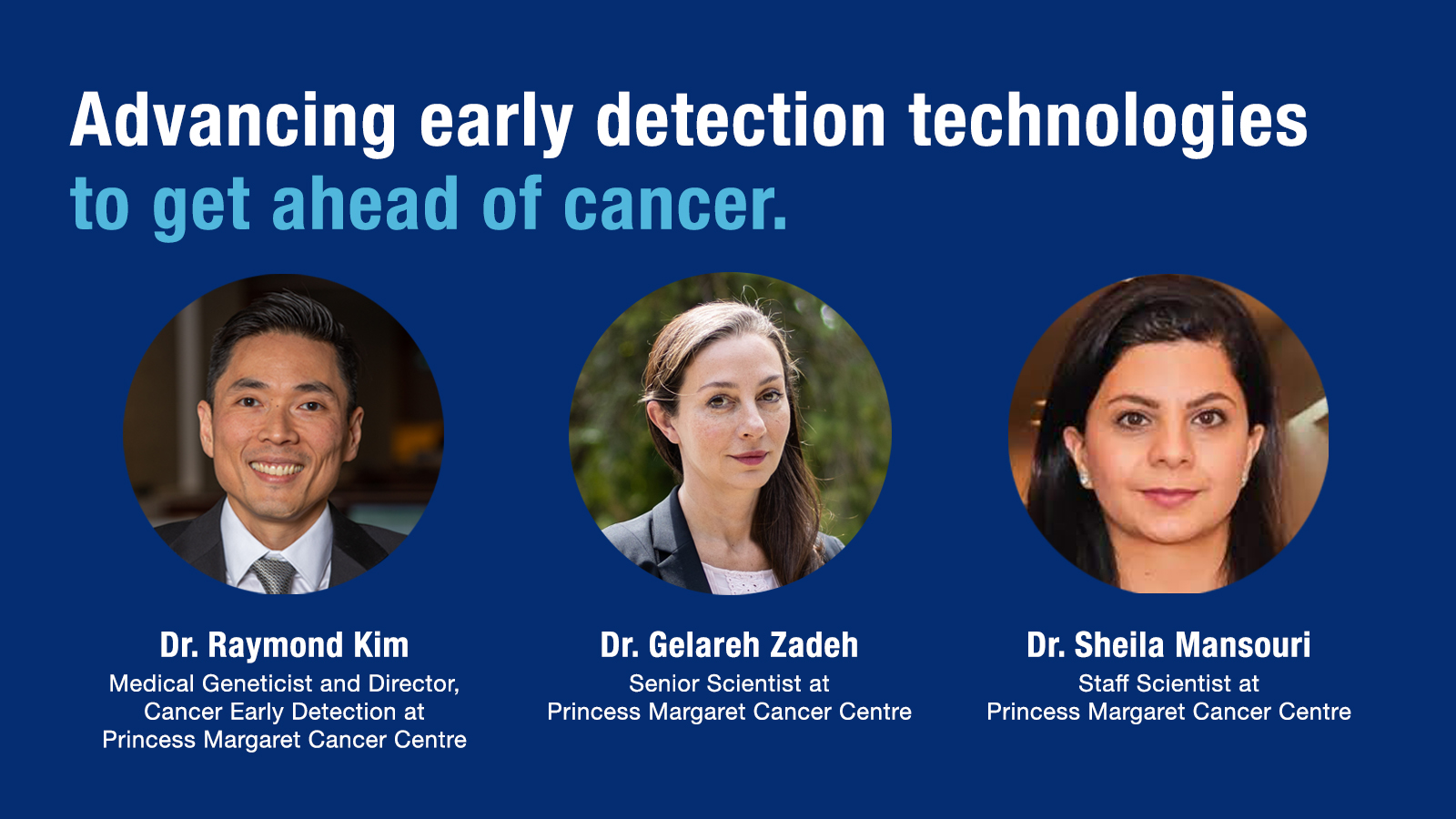 With research showing that early detection increases the cure rate from five to ten-fold for some cancers, Princess Margaret Cancer Centre has taken on the challenge of developing innovative early detection technologies that will enable us to get ahead of cancer before symptoms even appear.

From the creation of a simple blood test to detect rare familial cancers to a mathematical model that predicts brain metastases, Drs. Raymond Kim, Medical Geneticist and Director, Cancer Early Detection at the Bhalwani Familial Cancer Clinic, and Gelareh Zadeh, Senior Scientist, and Sheila Mansouri, Staff Scientist, are at the helm of early detection research.

For Dr. Kim "genetic testing is the crystal ball into someone's future". Calling the Bhalwani Familial Cancer Clinic home, the thought leader in genetic testing is pursuing an uncharted territory in early detection research: the creation and validation of a circulating tumour DNA (ctDNA) liquid biopsy test for patients with a hereditary cancer syndrome (HCS). People with HCS have an inherited disorder that places them and their families at a high risk for developing certain types of cancers. Despite having multiple scans, these patients worry about their heightened risk of cancer, which is where the liquid biopsy test can benefit them by detecting cancers before symptoms even appear.

The Bhalwani Familial Cancer Clinic is leading a national effort to study ctDNA in patients with HCS. A liquid biopsy is a simple, non-invasive blood test that detects and monitors ctDNA; ctDNA are fragments of DNA shed from precancerous or cancerous cells that enter the bloodstream and have the potential to detect cancer early.

Dr. Kim is validating the utility of liquid biopsy as a screening tool in families with HCS, with a focus on profiling rare tumours and syndromes where very little data exists. These families at risk of developing cancer will benefit from an early detection approach that proactively detects cancer, enabling patients to get ahead of the disease and stop cancer in its tracks.

Dr. Zadeh – one of the world's most sought-after neurosurgeons and researchers – and Dr. Mansouri – a passionate molecular biologist – are investigating the use of DNA methylation profiling for early detection, screening, and personalized treatment for patients with central nervous system tumours; in particular, brain tumours.

Combining the science of DNA methylation profiling that looks for patterns of chemical methyl markers on the DNA of cancer cells and computational technology, Drs. Zadeh and Mansouri are validating a CNS tumour-based methylation classifier. The technology offers a way to classify brain tumours based on DNA methylation patterns, addressing a major challenge in treating brain cancers – accurately diagnosing different types, and tumours ranging from low grade to aggressive. To validate this classifier, they are determining its impact on patient care and cost-effectiveness by profiling hundreds of banked meningiomas and non-meningiomas tissues.

Up to 30% of cancer patients develop brain metastases, which significantly worsens a patient's prognosis despite treatment. Unfortunately, tools that predict which patients will develop brain metastases do not exist, which is why Drs. Zadeh and Mansouri are developing a methylation-based nomogram for three of the most common types of cancers: lung, breast, and melanoma. The mathematical model aims to determine if a patient has a high chance of their cancer metastasizing or the likelihood of a brain tumour reoccurring. Their research is beneficial for all cancer patients as the nomogram can help guide decision-making about the timing and frequency of screening for progression.

Finally, with the goal of moving the test into clinical practice, Drs. Zadeh and Mansouri are conducting pre-clinical translational studies for using a liquid biopsy to detect and diagnose brain tumours, monitor progression, screen for brain metastases for lung cancer, breast cancer and melanoma, and to catch recurrence early based on ctDNA methylation patterns. The practice-changing technique avoids the need for invasive surgery to collect tissue samples and could benefit patients with all types of cancers.

Every day, Drs. Kim, Zadeh and Mansouri demonstrate their commitment to excellence in cancer research and patient care through their work in the ever-evolving field of early detection. The Foundation is grateful for the generosity of the FDC Foundation as they help enable Drs. Kim, Zadeh and Mansouri to conduct research that leads to new insights and the creation of early detection technologies that were once unimaginable.


Together, we can Conquer Cancer In Our Lifetime