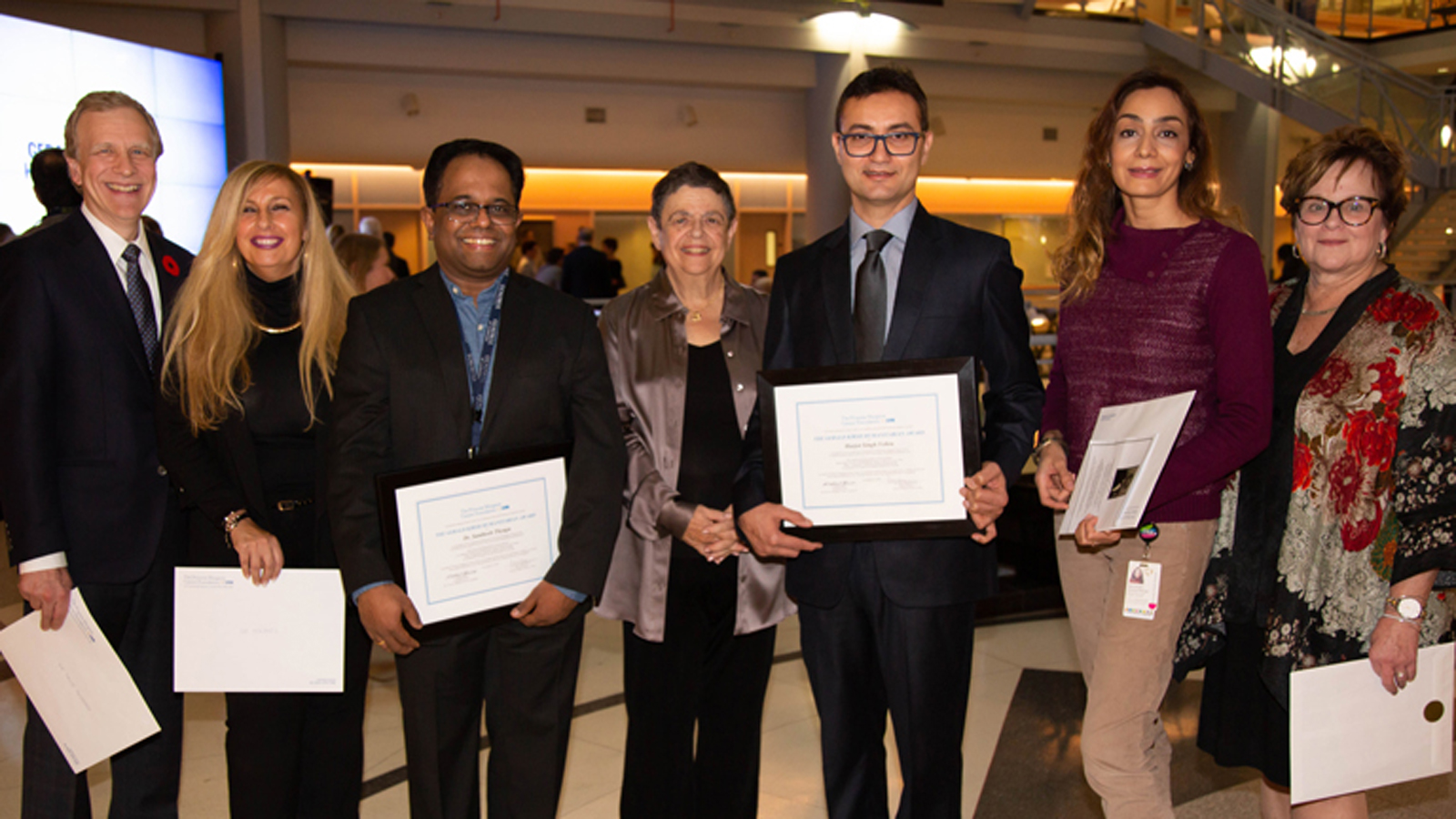 The Gerald Kirsh Humanitarian Awards recognizes those who have provided exceptional care to patients. This year was the 19th annual ceremony held at Princess Margaret Cancer Centre.

This year, Dr. Santhosh Thyagu, a Medical Oncologist and Hematologist, and Harjot Singh Vohra, a Clinical Research Coordinator, from The Princess Margaret were honoured with a Kirsh Award. Both are second time recipients of this award, winning in 2012 and 2014 respectively.

"Vohra shared his personal cell number in case I was in need. In no time he came to help and made all the arrangements for the patient," said an anonymous patient who nominated Vohra.

"I found Dr. Thyagu to be a deeply compassionate and empathetic individual, he doesn't shy away from patients…as difficult as it may be," said another, who nominated Dr. Thyagu.

Their outstanding work at the Cancer Centre has had a profound impact on patients' lives. In addition to delivering the best possible care, they recognize that the importance of creating a welcoming environment that can give the patient a peace of mind.

Both have truly exemplified the Cancer Centre's five core values: safety, compassion, teamwork, integrity and stewardship.

The Gerald Kirsh Humanitarian Awards were established in 2000 by the family of the late Gerald Kirsh, a patient who received exceptional care while he was at The Princess Margaret.

Other 2018 nominees included: Dr. Eitan Amir, Medical Oncologist, Dr. Ralph Gilbert, Otolaryngologist, Dr. David McCready, Surgical Oncologist, Pat Merante, Clinical Trials Nurse, Dr. Donna Reece, Hematologist Oncologist, Mahnush Saadatmand, Systemic Therapist and Dr. David Warr, Medical Oncologist.

All staff at The Princess Margaret are eligible to be nominated for a Gerald Kirsh Humanitarian Award. To nominate someone, please fill out an online nomination form here or e-mail kirshawards@thepmcf.ca for more information.
Published November 07, 2018
Together, we can Conquer Cancer In Our Lifetime