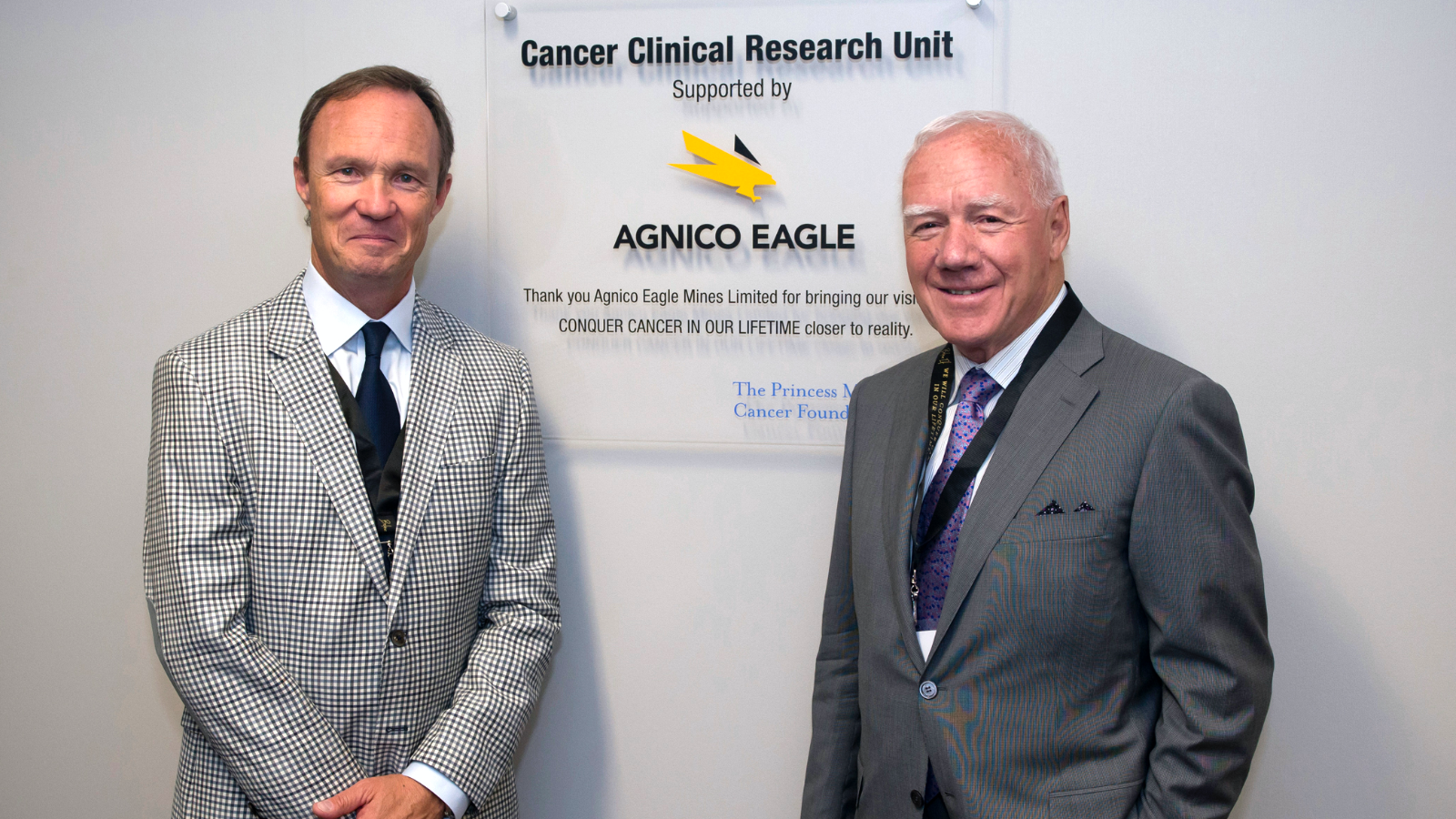 A new $10 million commitment from Agnico Eagle Mines will take cancer innovation at The Princess Margaret to the next level. For Sean Boyd, Vice-Chairman and CEO of Agnico Eagle, it is vital support that will help millions of people living with cancer. He says, "Now more than ever, support from Corporate Canada has never been so critical to help accelerate life-saving cancer research and to improve the quality of life for so many." He hopes that the high-impact work accomplished through their partnership will inspire other Canadian corporations to make similar meaningful investments.

This latest $10 million commitment from the Canadian gold mining company brings their total support of the Foundation to over $25 million, signalling their vision for reinforcing Canada as a world leader in the mission to conquer cancer. More specifically, this gift is leading to the creation of two Agnico Eagle Princess Margaret Grand Challenges which will drive leading-edge cancer research in two key areas: early detection and less toxic treatments.

In the first area, the Agnico Eagle Intercept Cancer Grand Challenge will support research methods to detect cancer at curable stages, even before symptoms appear. Early detection, diagnosis, and intervention against cancer offers the strongest chance of survival for patients, improving the cure rate of most cancers five- to ten-fold. The longer-term goal of this challenge is to establish a world-leading early detection and cancer intervention program, benefiting patients here in Canada and around the globe.

For the second area of focus, the Agnico Eagle Beyond Chemotherapy Grand Challenge looks to accelerate efforts to eliminate the debilitating side effects for patients. This challenge supports the research of options to deliver less toxic, more precise and personalized treatments. On top of that, the goal is to use the Princess Margaret Cancer Centre's world-class expertise and infrastructure to position Canada as a global leader in the development of next-generation cancer therapeutics.

Discoveries made in each area will be put to the test in the centre's globally renowned clinical trials program, which transforms research into real results for patients. The Princess Margaret leads the world in this area, with 22% of patients in clinical trials — nearly double the number in the U.S. and U.K.

With capabilities like these, it is no surprise that Agnico Eagle sees the kind of meaningful support their company can bring. "For Agnico, we look to prioritize our social investment in areas that show promise of greatest impact," Boyd continues. "And The Princess Margaret fits the bill, leading the world in advancing cancer discoveries, diagnoses and treatments to cure more patients and improve quality of life of those living with cancer."

Everyone here at The Princess Margaret would like to express our deepest gratitude for Agnico Eagle's visionary gift that will allow us to showcase Canadian excellence and leadership for cancer innovation on the world stage.
Published May 27, 2021