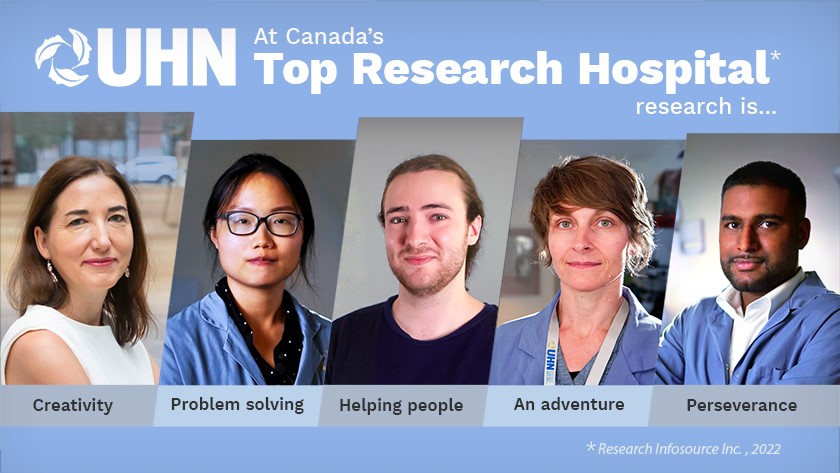 UHN is proud to announce it was once again ranked number one on the 2022 list of Canada's Top 40 Research Hospitals from Research Infosource Inc. UHN has held this leading position since the inception of the list in 2011.

The annual rankings compare research hospitals across Canada according to their research spending data. Funds that were considered included grants, contributions and contracts from all internal and external government and non-government sources in the previous fiscal year.

UHN research spending totalled $452,954 million in the 2021 fiscal year. Along with UHN, a total of 19 Ontario research hospitals made the list. The other research hospitals in the top five for total research spending are the Hospital for Sick Children ($278.1 million), McGill University Health Centre ($196.8 million), BC Provincial Health Services Authority ($188.8 million) and the Vancouver Coastal Health Authority ($174.5 million.)

Within the "Large Hospital" category (total hospital spending of more than $1 billion), UHN also maintained the number one ranking for research hospital intensity, which is defined as the percent of research spending versus total hospital spending.

"In the face of great adversity, research hospitals across Canada continue to serve as the central and most vital link between health care and discovery," says Dr. Brad Wouters, UHN's Executive Vice President of Science and Research. "This unique environment is where the cures of tomorrow are born."

"This year, we are asking everyone – our patients, donor community, collaborators, research teams and partners – to advocate for a federal budget that includes sustainable and targeted funding for investigator-led research."

Realizing the full potential of research and innovation in Canada
Follow @UHN_research and @ResearchCda on Twitter and use hashtags such as #ResearchIsTheSolution or #CDNHealth in your posts.
Reach out to your members of parliament and other leadership to let them know that research is important to the future prosperity and health of all Canadians.
"In these times, it is particularly important to thank our generous donor community, which supports research through our foundations – The Princess Margaret Cancer Foundation and the UHN Foundation," says Dr. Wouters. "Together we are part of a resilient research community – one that continues to be an essential part of Canada's vibrant and innovative research ecosystem."

Research Infosource Inc. reports on research activity across Canada. For more information, see the complete list of Canada's Top 40 Research Hospitals or read the media release

This story first appeared on UHN News