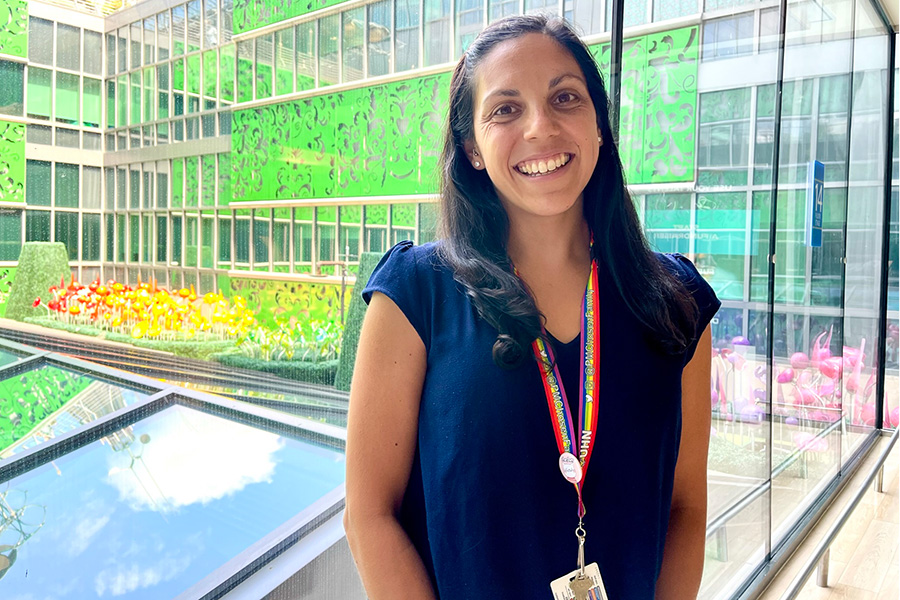 When Pat McCoy, a patient at Princess Margaret Cancer Centre, saw SarahRose Black come into his hospital room carrying a keyboard and a few hand drums, he wasn't sure what to expect.

Now, he looks forward to every visit as the best part of his stay at the Princess Margaret.

"The music has been a tailwind lifting me up higher and making me feel stronger," says Pat. "Staying positive is so important to recovery."

SarahRose is a certified music therapist and registered psychotherapist at Princess Margaret Cancer Centre who provides therapeutic support for cancer patients – in the form of song.

Music therapy is a clinical practice that integrates all aspects of music to support a holistic view of a patient's health. As a music therapist, SarahRose focuses on her patients' complete clinical picture, including pain and symptom management as well as emotional and psychosocial needs.

She first met Pat in June of this year, when he was admitted to the Princess Margaret for an allogeneic stem cell transplant, a challenging treatment that requires a month of hospitalization.

When Pat recalls his life before treatment, he thinks of the way music was always in the background, but never at the centre.

"It wasn't until I met with SarahRose that I thought back to all the milestones in my life and really considered the music that was the accompaniment to those situations," he says.

Now, music is the soundtrack to his recovery and continues to be a key part of his daily life.


SarahRose is also a registered psychotherapist – training that intersects with her musical talent to provide full emotional and therapeutic support for patients. In her experience, bringing music into such a vulnerable and intense place often generates overwhelming emotion.

Psychotherapy techniques help her to work through these emotions with the patient.

"You go into the room with a toolbox," explains Michaela Bekenn, one of two students currently studying with SarahRose. "With psychotherapy, music therapy and humanity all in one, we treat each patient with a variety of tools that can be tailored to their individual experience."

Every individual cancer journey is different. The music therapy team sees patients with a variety of diagnoses, including solid tumours, blood cancer, lymphoma, palliative care patients and more.

To SarahRose, the most important part of her role is listening to the patient.

When she meets a new patient, she focuses on understanding their thoughts, feelings, history and needs to determine which of many possible paths the music therapy session should take. She offers them options including listening to her play, analyzing lyrics, and even composing and singing songs together.

"We do the heavy musical lifting – if someone wants to write a song, they don't need to have the theory of how to do that, they just need to tell their story," SarahRose says.

One common thread tying these methods together is a focus on finding the musicality inside of the patient and drawing it out to address situations too complicated for mere words.

"Using music in therapy provides a way to unpack and reflect on emotions – no words needed," says Adriana, the other Wilfrid Laurier student now interning with SarahRose.

Finding each person's 'fight song'

One way music therapists do this is by working with the innate physiological music of the body – such as the heartbeat or breath – and transferring it into new music. SarahRose has a stethoscope that can record the rhythm of a heartbeat which she can then use as the drum that drives a song.

In a technique called entrainment, a music therapist will match the tempo of a song to the patient's breathing and gradually slow it down to even out the breath and calm the patient.

For the Princess Margaret's music therapy team, no session is the same. They focus on finding the songs, sounds and lyrics that make up the personal soundtrack of each patient's life.

"Each song has its own story, almost like a little time capsule," says Michaela. "Sometimes one song can open up a world for a patient."

Together, Pat and SarahRose discovered Pat's "fight song," which he chose to draw strength from in the toughest days of recovery.

"It's from an old baseball movie, called The Natural," he says. "The song is called Knock the Cover off the Ball. It is an instrumental piece that plays as a player defies all odds and hits a ball into the overhead lights.

"The lights start sparking and in slow motion, the player runs the bases in a shower of fireworks, winning the game."

Every time SarahRose plays Knock the Cover off the Ball for Pat, he relives the same rush of triumph, hope and strength that filled him the first time he ever watched the scene.

"Every time I think of it, it just moves me," he says. "That is my choice of a fight song to get through this."

This story first appeared on UHN News