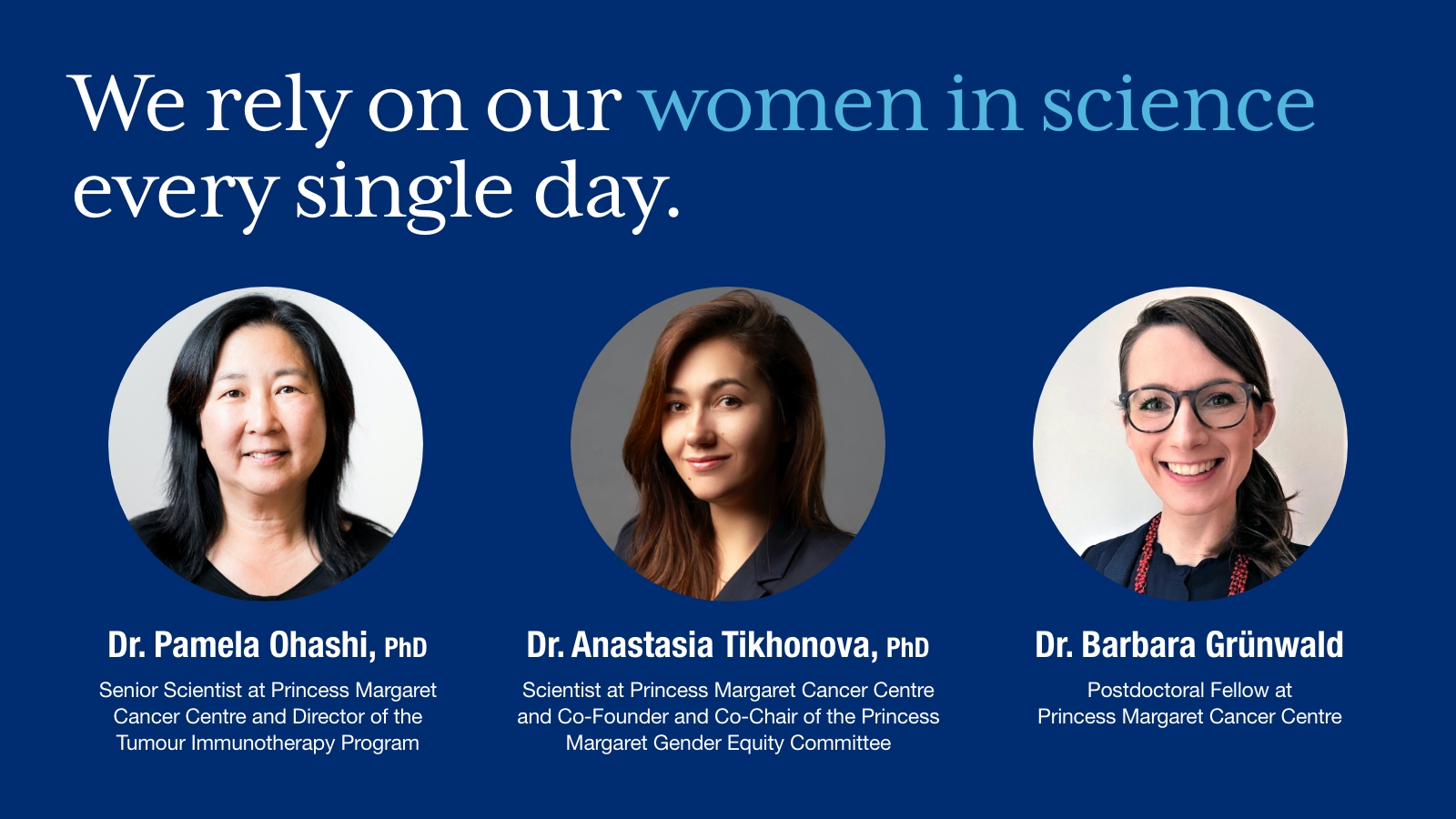 On International Day of Women and Girls in Science, we are celebrating the powerful role that women and girls play as leaders in STEM by sharing the stories of three extraordinary women scientists at The Princess Margaret: a postdoctoral fellow, senior scientist, and the co-chair and co-founder of the Gender Equity Committee.

Learn what inspired these talented individuals to pursue a career in science, advice for the next generation of women scientists, why we need more women and girls in STEM, and the barriers that impede gender equity in the field.

Dr. Barbara Grünwald
Postdoctoral Fellow
Area of Specialty: Pancreatic Cancer
What inspired you to pursue a career in science, and your area of specialty?
Science seemed the most fun – it meets my curiosity, my appreciation for conceptual beauty in complex systems, and my honestly probably Star Trek-inspired excitement for developing technologies. My area of specialty reflects my need for purpose: pancreatic cancer is a deadly, hard-to-treat cancer with very intricate biological underpinnings. Cracking these puzzles to improve the awfully grim patient outcomes is where I feel I can have the most impact with my abilities and has been tremendously fulfilling so far.
Why is it important for more women and girls to enter the field of science?
Our commitment to scientific progress simply demands that we attract the best and brightest, so it's indispensable that we aim for the largest talent pool possible. The general benefits of gender diversity in the workplace are well documented by now, ranging from dramatically improved productivity and collaboration to maximization of problem-solving skills by incorporation of different perspectives and thinking styles. Ultimately, more women in science will be a key indicator that we have successfully changed how society sees women and how women see themselves in the world along with what they think they can achieve.
What is your advice for women and girls interested in pursuing a career in science?
Firstly: Science needs female leaders, the quiet gentle ones as much as the fierce and loud ones. Be yourself, trust your gut and be fearless. Secondly: Enjoy the ride. Everything sucks some of the time, but your joy and passion are your lifeline for achieving hard, extraordinary tasks for a living – protect them at all costs. Most importantly: You are not alone. Build your mentoring network early and advocate for other women scientists and their needs along you own way.
Dr. Pamela Ohashi, PhD
Senior Scientist and Director of the Tumour Immunotherapy Program
What inspired you to pursue a career in science, and your area of specialty?
My first-year professor Dr. Jim Friesen offered me a position in his lab as a summer student. I enjoyed science and kept working in different labs. I was accepted as a graduate student at the Ontario Cancer Institute, which is the research arm of The Princess Margaret, but delayed acceptance while I worked as a technician for a year. Then a wonderful opportunity arose when Dr. Tak Mak asked me to join his lab, after he just cloned the T cell receptor. This was a key discovery that opened up the field of immunology. There was so much to learn, and it was very relevant for all human diseases. Based on some experiments I did as a post-doctoral fellow, I believed that immunotherapy for cancer would one day become a reality and it has!
Did you face any challenges in your career attributable to being a woman? If so, how did you overcome these challenges?
Yes. I will say that it was very challenging to juggle family and a career in science as a principal investigator or professor. Science is a full-time job, as is raising a family. One must persevere and struggle through. I found that creating a strong support system helped me manage it personally, although this is band aid solution for the larger challenges that need to be addressed. Progress is being made – gender equity was never as prevalent in the early years of my career as it is today. This is a step in the right direction.
What is your advice for women and girls interested in pursuing a career in science?
My advice to women and girls is that if they're passionate about science, they shouldn't hesitate to pursue a career in the field. Science is an exciting career path because we have the opportunity to push the boundaries of knowledge and do research into what we are truly interested in. It's also important to consider that success can be measured in different ways, depending on an individual's career goals. It is not only about being a principal investigator or professor and having your own lab. For those starting off on this path, I would recommend young scientists to seek out world-class labs that do the research you are interested in. This will provide a good perspective and open the door for the most opportunities for your future career.

Dr. Anastasia Tikhonova, PhD
Scientist and Co-Founder and Co-Chair of The Princess Margaret Gender Equity Committee
Why did you decide to establish The Princess Margaret Gender Equity Committee?
This idea emerged from a casual discussion with my colleagues Dr. Courtney Jones, an early career investigator, and Dr. Catherine O'Brien, a senior scientist at The Princess Margaret. Dr. Jones and I had just completed a year-long academic job search and both shocked by the paucity of women on the job market during our search. Adding to these frustrations were sexist microaggressions (and sometimes macro) that we experienced during our interviews. We wanted to change this for future generations of women scientists. And so, the three of us formed a committee to promote gender equity and ensure that we are able to recruit and retain women scientists here at The Princess Margaret.
What are some examples of the systemic barriers that women face in science?
There are at least two key barriers that women face in science: a gender-biased academic culture and a lack of infrastructure to support working parents. While both are harmful, the lack of resources to support parents in STEM is the issue that I find most concerning. Throughout my training, I have consistently witnessed women leave the academic career track because of meager academic wages and the inability of academic salaries to cover even basic childcare costs. The idea that researchers, and especially women, feel that they have to choose between having a career in science and having a family is not acceptable in 2022. Providing affordable childcare for primary caregivers at all levels would be a monumental step towards retaining women in STEM and increasing the rate of scientific discovery.
What is your hope for the future of women in science?
I hope that women are appropriately credited for their discoveries, and I want to see more women be a part of senior leadership. That will drive top-down changes in academic culture and institutional infrastructure, creating an environment where women feel like they belong.
Why is it important to involve more women and girls in science?
Science is driven forward by creativity and creativity is maximized by diversity. Thus, retaining women in science would maximize the rate of scientific progress.
What is your advice for women and girls interested in pursuing a career in science?
"Learn the fine art of self-advocacy and learn it early."

As a powerhouse in cancer research, The Princess Margaret attracts the brightest minds from around the world, and Drs. Grünwald, Ohashi, and Tikhonova are only a few of the remarkable women scientists accelerating cancer research at the Cancer Centre. Understanding that diversity in the cancer research community is a key factor in achieving scientific excellence, The Princess Margaret continuously works towards achieving gender equity in representation, leadership, research and recognition among scientists, clinician-scientists, trainees, and staff.

Learn more about how you can support world-class cancer research at The Princess Margaret.