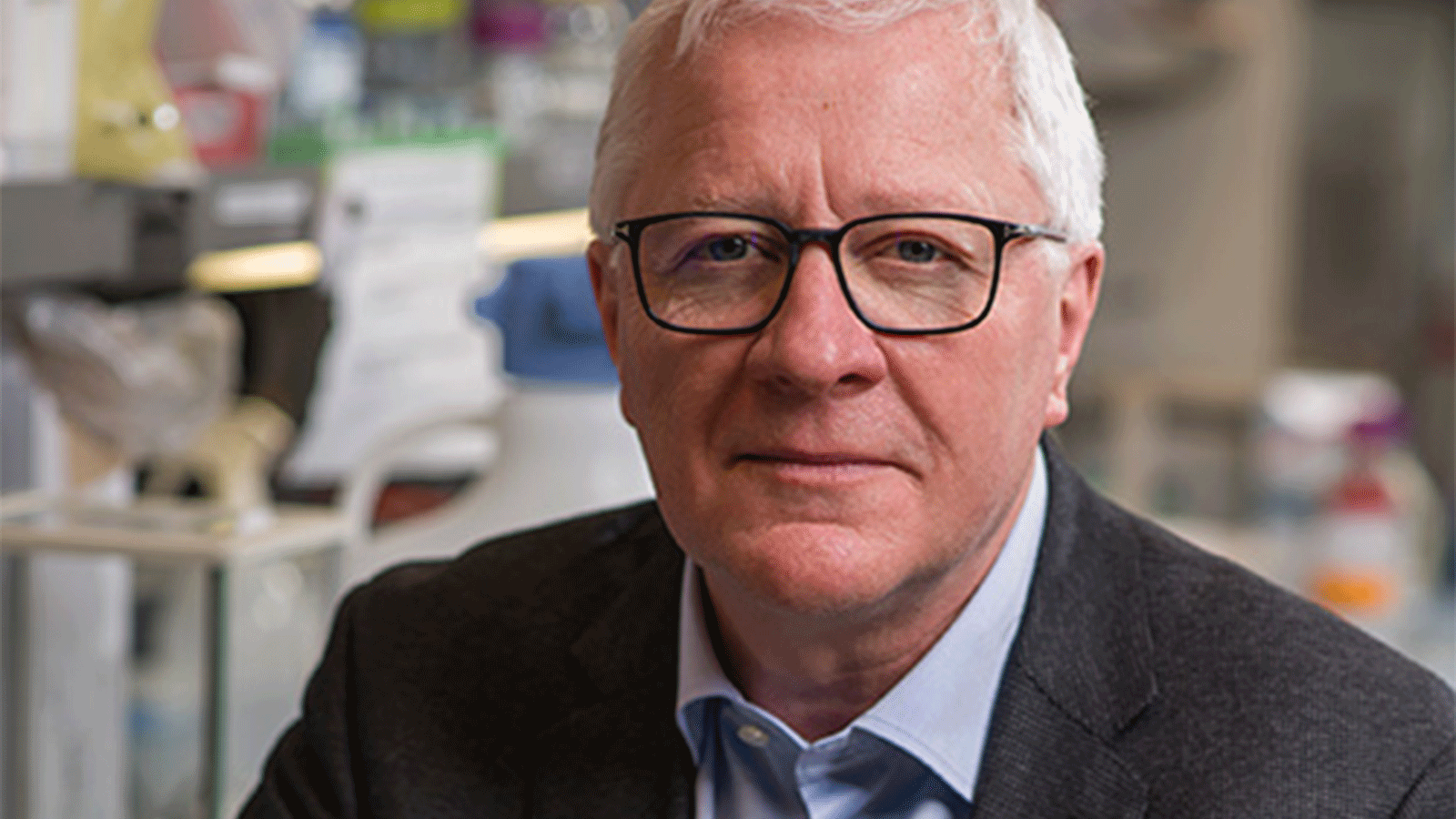 Dr. John Dick, Senior Scientist at UHN's Princess Margaret Cancer Centre, received the prestigious Canada Gairdner International Award Tuesday "for the discovery and characterization of leukemic stem cells (LSC), providing insights into the understanding, diagnosis and treatment of acute myeloid leukemia (AML)."

"It was a bit of a surprise, shock, really! It's a mix of humility, gratification and pride," Dr. Dick said when he got the news from Gairdner Foundation President and Scientific Director, Dr. Janet Rossant.

"I'm proud of the fact that our work is being recognized; we've done something important and we're carrying the mantle of Canada, representing our country."

Dr. Dick holds the Canada Research Chair in Stem Cell Biology, and is a Professor at the University of Toronto's Department of Molecular Genetics.

Dr. Dick's world-first discovery and characterization of LSC was lauded for changing "the understanding of the underlying biology of cancer and stimulated exploration of cancer stem cells (CSCs) in other human cancers, including those affecting the breast, brain, colon, pancreas, skin and liver."

The Canada Gairdner International Award, which comes with a $100,000 prize, highlighted the fact Dr. Dick's pioneering research has reverberated at the patient level by reframing the approach to treatment "to ensure that CSC are eradicated when therapy is delivered and the need for new therapies that target CSC vulnerabilities."

In addition, Dr. Dick "developed a 17-gene 'stemness score' that can be used clinically to determine patient risk of poor outcome and help guide therapeutic choice."

The legacy of Dr. Dick's work offers "clear direction for improving clinical outcomes in leukemia through LSC targeting and potentially in other cancers that adhere to the CSC model."

'A major impact on cancer research and treatment'

"Dr. John Dick's seminal discoveries have revolutionized our understanding of cancer, providing definitive proof of a new model of tumour initiation that is today a major field of study in virtually all major cancer types," says Dr. Brad Wouters, Executive Vice President, Science & Research at UHN.

"His scientific contributions on the development of normal and cancerous blood cells continue to have a major impact on cancer research and treatment. This prestigious award reflects his status among the world's elite in human cancer biology."

"It's hard to be singled out as an individual, right? And that of course, probably goes back to my Mennonite upbringing in rural Manitoba," says Dr. Dick. "Of course, it's much less to do with me, and much more to do with supporting the people in the lab who are the engine of this work."

The Gairdner Awards are handed out annually and sponsored by the Gairdner Foundation, which was established by Toronto stockbroker, James Gairdner to honour scientists whose discoveries have had major impact on scientific progress and human health. Since 1959 when the first awards were granted, 402 scientists have received a Canada Gairdner Award and, so far, 96 have gone on to receive the Nobel Prize.

Dr. Dick says receiving the Canada Gairdner International Award sends a strong message to the next generation of scientists that we have the capacity and funding to do world class science right here in Canada.

"It's a demonstration to the up-and-coming scientists in the country – the trainees, the newer faculty, and so forth – that it is possible in Canada to grab the 'golden ring' and to do something impactful and to have it recognized."

If you'd like to hear Dr. Dick discuss his pioneering LSC discovery, as well as his career path – from going to a one-room schoolhouse in rural Manitoba to choosing medical research as a vocation, listen to his episode on the UHN podcast 'Behind the Breakthrough'.
This story first appeared on UHN News.
Together, we can Conquer Cancer In Our Lifetime