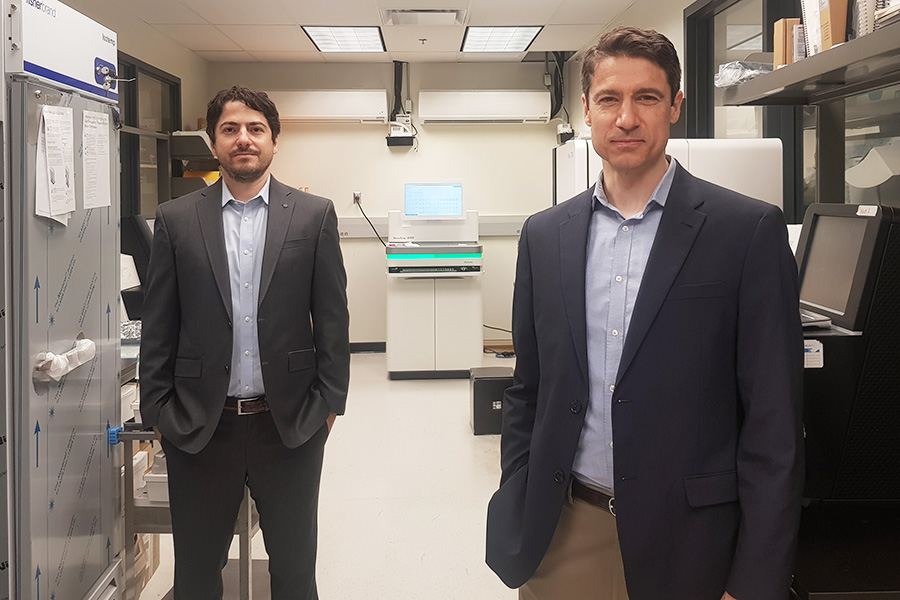 A simple blood test for cancer and other diseases could be on the horizon with Adela, a start-up company which was launched on Wednesday out of UHN and is poised to advance precision-based, personalized medicine.
Based on the cutting-edge research of Drs. Daniel De Carvalho and Scott Bratman, both Senior Scientists at Princess Margaret Cancer Centre, Adela envisions a future where multiple cancers – and other diseases – could be detected by taking just a simple blood sample.
In the creation of Adela, Dr. De Carvalho, the company's Chief Scientific Officer, and Dr. Bratman, Chief Executive Officer, have joined forces with seasoned entrepreneurs: Anne-Renee Hartman, Chief Medical Officer, Todd Arnold, Chief Operating Officer, Board Chair David Scheer and Board Member Maneesh Jain. Together, they will further commercialize the innovative liquid biopsy technology for cancer detection and management first discovered at UHN.
A key aspect of Adela's foundational technology is DNA methylation – a DNA modification frequently found in cancer cells of all types. During the DNA methylation process, a chemical group known as methyl attaches to the DNA, reflecting changes in cell behaviour, such as turning genes on or off.
In cancer cells, DNA methylation patterns are disrupted, and this process is usually associated with unregulated cancer growth. Paired with sophisticated machine learning algorithms, Adela's platform mines millions of DNA methylation changes in the human body, creating powerful capabilities to diagnose a variety of cancers and other conditions with exquisite sensitivity.
"Adela's technology has the potential to revolutionize how we detect and diagnose disease," says Dr. Bratman. "With Adela, we expect that from a blood draw, doctors will be able to diagnose cancer, monitor treatment response, and identify patients who are at a higher risk of relapse and might benefit from more aggressive treatment."
Highly sensitive test that can classify solid tumours
"We can also monitor treatment response – all with just a blood test and no need for surgical extraction of cancer tissue for biopsy," he says. "These applications demonstrate the power of the methylation-based platform used in Adela across a wide range of clinical settings."
With UHN's unique in-house technology de-risking approach, delivered with support from the Princess Margaret Cancer Foundation via the Princes Margaret Cancer Centre Innovation Acceleration Fund (IAF), Adela gained the confidence of five major investor partners: F-Prime Capital led the Series A financing together with OrbiMed, Deerfield Management, Decheng Capital, and RA Capital Management.
Building on multiple high-impact publications in Nature,NatureMedicine, and just this week in Clinical Cancer Research, Adela's recent Series A financing round is one of the biggest in Canadian biotech history. It will help the start-up achieve ambitious milestones aimed at bringing this convenient technology to patients with cancer, sooner. Read the UHN Research story on their latest paper.
Skipping the biopsy, which is typically cumbersome and results in more down time for patients, Adela's platform takes a blood sample – a quick, surgery-free way to help diagnose patients in an out-of-hospital setting.
"The immense potential of our core technology has already been demonstrated across 10 different cancer types," says Dr. De Carvalho. "We took advantage of the fact that there are a large number of DNA methylation marks that are characteristic of circulating tumor DNA in the blood of cancer patients and using this knowledge, we developed a robust and cost-efficient approach to profile or 'read' DNA methylation in this circulating DNA, combining them with machine learning analysis."
The result: a highly sensitive test that can classify multiple solid tumours, including brain and kidney cancers.
"We are proud to have been part of the creation of Adela, helping commercialize its foundational, ground-breaking liquid biopsy technology," says Brad Wouters, UHN's Executive Vice President, Science and Research.
Adela brings extraordinary experience to the table
"Spinout companies like Adela at UHN are advancing global health while growing the biotech community and creating jobs in Toronto," Dr. Wouters says. "Adela's launch is a significant contribution to the Canadian biotech economy and beyond, and a true result of the world-class, transformational scientific work happening within UHN.
"We are thrilled to see Adela taking the next step forward towards having widespread impact on patient lives."
Thanks to our world-class researchers, trainees and clinicians, UHN is now Canada's top research commercialization institution and the eighth top hospital in research commercialization in North America [AUTM Licensing Activity Survey]. Over the past three years alone, commercialization activities at UHN have generated $68 million in hospital revenues, which are being reinvested to propel research and innovation forward.
In line with UHN's company creation strategy which includes enlisting world-class entrepreneurial talent, the founding members of Adela bring extraordinary experience to the table. They are a team of pioneers in the fields of cancer detection, epigenetics, and liquid biopsy, and have already been part of building numerous, successful companies:
Scott Bratman, MD, PhD, Chief Executive Officer and President: Internationally recognized expert in cell-free DNA, co-inventor of multiple liquid biopsy technologies
Daniel De Carvalho, PhD, Chief Scientific Officer: World-leading scholar in cancer epigenetics, inventor of Adela's proprietary platform
Anne-Renee Hartman, MD, Chief Medical Officer: Pioneer in the field of cancer early detection, former Head of Clinical Development & Medical Affairs at GRAIL
Todd Arnold, PhD, Chief Operating Officer: Seasoned Laboratory and R&D operations executive, former Chief Laboratory Operations Officer at Sema4
David Scheer, Board Chair: Founder, Director, and/or Chairman of more than ten life science companies
Maneesh Jain, PhD, Board Member: CEO, Founder, and/or Director of six life science start-ups including Cirina, the first liquid biopsy company for early cancer detection
Adela launches with major operations within the UHN campus at 610 University Ave in Toronto and will be headquartered in New Haven, Conn.
This story first appeared on UHN News.
Together, we can Conquer Cancer In Our Lifetime