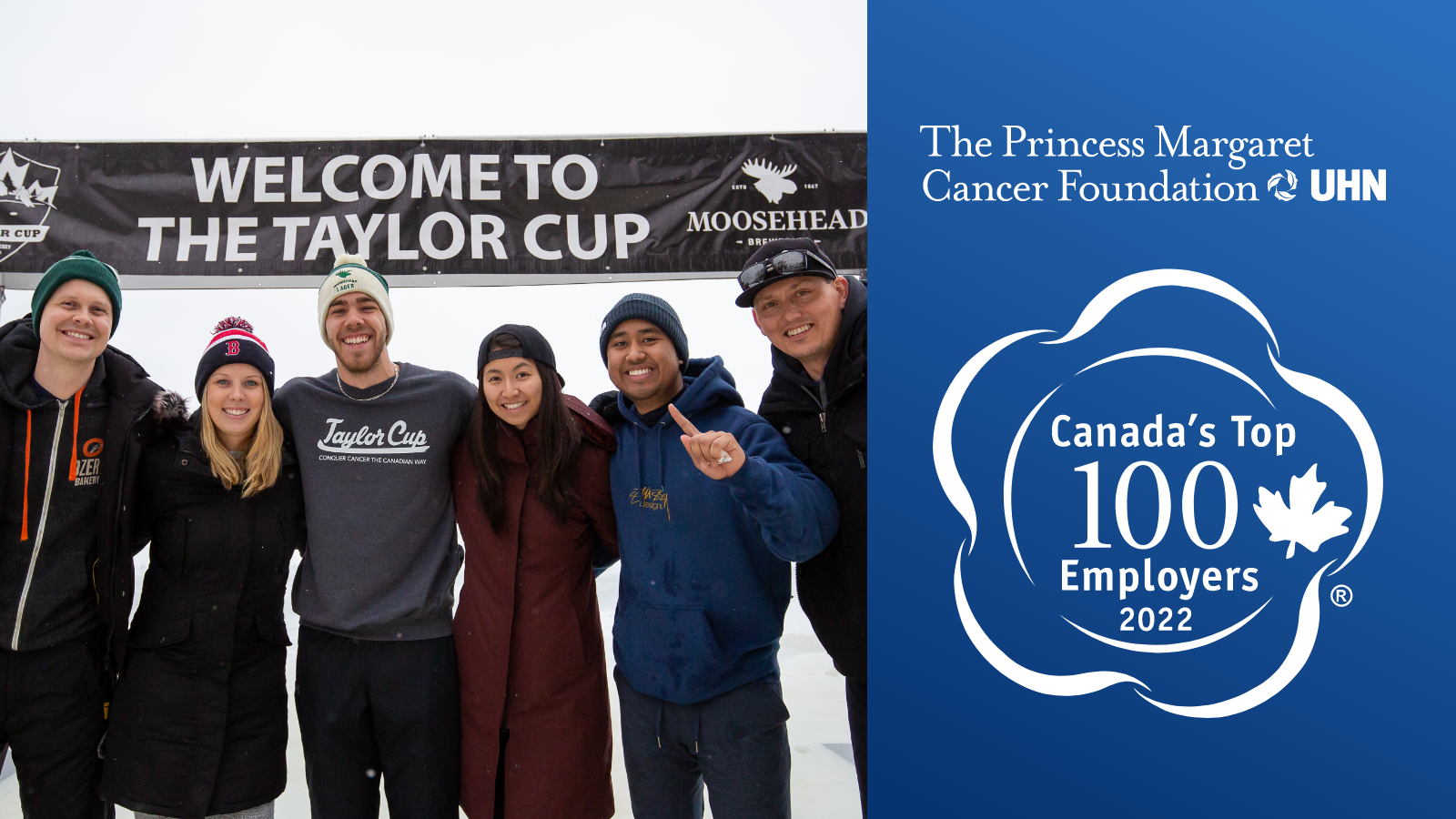 The Princess Margaret Cancer Foundation is proud to be one of Canada's Top 100 Employers for 2022. The highly competitive and merit-based competition recognizes employers that act as leaders in their industry by offering exceptional workplaces to their employees.

One of the few charities to receive the award, The Princess Margaret Cancer Foundation ranks among the best employers for its employee-centered initiatives and values, as well as resiliency throughout the pandemic. Here are some of the initiatives that earned the Foundation the award:
Our commitment to employee wellness: When the pandemic hit, employee wellness became a focal point of our HR program. Our staff has access to various virtual wellness programs to address both their physical and mental wellbeing. We have also re-defined flexible working arrangements and allow team members to work through hours of the day, and from locations, that best suit their personal and work commitments. The team also enhanced virtual employee engagement to foster employee connectivity and help combat feelings of isolation during the pandemic.
Our comprehensive benefits: We are committed to supporting our staff and their families by providing a comprehensive benefits package that will ensure their financial wellbeing and work-life balance. As a member of UHN, our benefits for full-time employees include a generous maternity and parental leave top up plan, and a progressive paid vacation allowance and a generous defined benefit pension plan (HOOPP) with employer contribution.
Our mission: The PMCF is a mission-driven organization. Not only do we have the privilege of working with other like-minded individuals who share a single purpose we all believe in, but each and every one of us has an opportunity to make a real difference in the lives of people living with cancer. This motivates us to bring our very best to work and enriches our workplace culture.
"Our people are at the heart of what makes The Princess Margaret Cancer Foundation an incredible place to work, and we're committed to supporting their wellbeing and the pursuit of their ambitions," says Dr. Miyo Yamashita, President & CEO. "The pandemic has made the past year challenging, but our people were resilient as they worked to fulfill their personal and team goals, enabling the Foundation to grant a record-setting $113 million to Princess Margaret Cancer Centre. I am so proud to be part of an organization that is fueled by passion and by a unifying mission to Conquer Cancer in Our Lifetime."

The Princess Margaret Cancer Foundation is a proud member of the University Health Network, which fosters a safe, equitable, and employee-centric workplace.

The 2022 recipients of Canada's Top 100 Employers were announced in The Globe and Mail on November 12, 2021. To learn more about the competition and the reasons why The Princess Margaret Cancer Foundation is recognized, please click here.